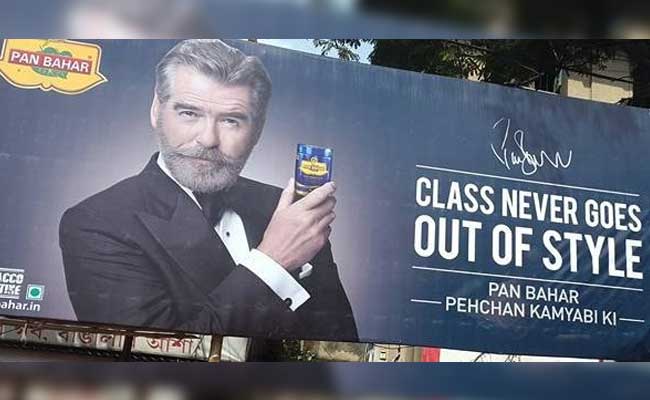 New Delhi:
After leaving fans worldwide shaken and stirred with his pan masala ad, former James Bond star Pierce Brosnan has said that he is "deeply shocked and saddened" at the "unauthorized" use of his image for the endorsement.
The 63-year-old star says he has demanded that the company remove his image from all their products.
He said his contract said he had to advertise a "breath freshener/tooth whitener" which would not include an ingredient that turns saliva red.
"As a man who has spent decades championing women's healthcare and environmental protection, I was distressed to learn of Pan Bahar's unauthorized and deceptive use of my image to endorse their range of pan masala products," Mr Brosnan said in an
exclusive statement
to the People magazine.
He clarified that he would never have entered into an agreement to promote a product in India that is dangerous to anyone's health.
"Having endured, in my own personal life, the loss of my first wife and daughter as well as numerous friends to cancer, I am fully committed to supporting women's healthcare and research programs that improve human health and alleviate suffering," the statement said.
Mr Brosnan was skewered on social media by fans and critics alike when the Pan Bahar ads debuted on October 7. Many questioned his decision to endorse the product, given he lost his first wife and daughter to cancer.
Doctors say, pan masalas mostly contain harmful ingredients that are cancer-causing and by the government rules, they are expected to carry statutory warnings.
The Pan Bahar print ads, the star who had played Bond in 'GoldenEye', 'Tomorrow Never Dies' and 'The World Is Not Enough', was seen flaunting a tin of the
pan masala
. The television ads showed him fighting baddies, flirting with women and pulling daring stunts, powered by
pan masala
.
Mr Brosnan's statement fueled more comments on Twitter.
"Pan Bahar's a tooth whitener"

Pierce Brosnan: "Okay"

*points to an electricity pole* "...and that's the Qutub Minar"



Pierce: "Beautiful"— Akshar (@AksharPathak) October 21, 2016
I think the real reason Pierce Brosnan is pissed is that he was looking arthritic, old, and ridiculously comical in that Pan Bahar ad

— The Bad Doctor (@DOCTORATLARGE) October 21, 2016
So pierce brosnan saying he didn't know what he was selling is as good as pablo escobar saying he thought he was selling talcum powder

— VIVEK KOKA (@Vivek_Koka) October 21, 2016
A Note to Pierce Brosnan -
Sir many sells tobacco products in India. Just don't give false innocent justification.
That too any Britisher.

— Lazy Cat (@DenNehaS) October 21, 2016
Pierce Brosnan thought Pan Bahaar was a tooth whitener ??

Shows how effective the British Secret Service is !

— Atul Khatri (@one_by_two) October 21, 2016