Highlights
Shivraj Singh Chouhan, 57, was seen carried through ankle-deep water
He was visiting the flood-hit Panna district
Floods in Madhya Pradesh have claimed 17 lives, displaced 4,500 people
Bhopal:
Madhya Pradesh Chief Minister Shivraj Singh Chouhan was caught on camera today, being carried by two policemen during his visit to the flood-hit areas of the state.
The Chief Minister was visiting Amanganj Tehsil in Panna district today.
In the cellphone photographs that were doing the rounds on social media, Mr Chouhan, 57, is seen carried through what is obviously ankle-deep water. In another place, he was seen walking barefoot through mud, an aide is seen carrying his white sneakers.
Sources in the government said the Mr Chouhan was carried as there was water in the nullah and the collector and the local police chief decided that they could not risk the chief getting hurt or being bitten by snakes.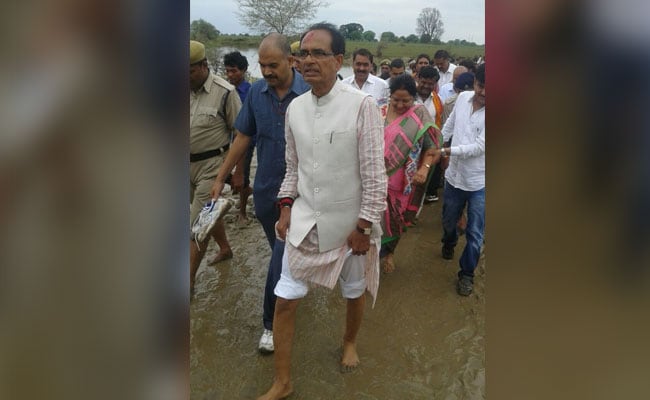 The Chief Minister has so far visited flood affected Rewa, Satna and Panna districts. The floods in the BJP-ruled state have already claimed 17 lives. Altogether, 4,500 people have been rescued but heavy rainfall is expected tomorrow.
Last week, an Odisha minister triggered outrage after he was caught on camera allowing a personal security officer to strap on his shoes after unfurling the national flag at an Independence Day function.
Reacting to the backlash, Biju Janata Dal's Jogendra Behara, the minister for micro, small and medium enterprise, had repeatedly said, "I am a VIP".
But a day later, he backtracked, saying the officer, who was like "a son" was helping him since he had a pain in his left leg and could not bend.