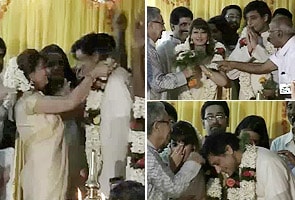 Palakkad:
Former Union Minister Shashi Tharoor on Sunday tied the knot with Dubai-based entrepreneur Sunanda Pushkar in a typical Malayali wedding ceremony in his ancestral home at Elavanchery village near Palakkad.
54-year-old Tharoor, a former UN Under Secretary General and now a Lok Sabha MP, tied the 'thali', symbolising the marital bond as per the Hindu custom, amid playing of 'Nadaswaram' and beating of drums at the auspicious moment shortly before 8.30 am.
While Tharoor was clad in traditional Malayali attire of kurtha and mundu, 48-year-old Sunanda, who hails from Jammu and Kashmir, turned up in an off-white 'veshti-mundu set' like any Malayali bride would have preferred on her wedding.
Before the wedding ceremony, the two sought the blessings of gods and elders of the family, who included Tharoor's 94-year-old maternal grandmother Jayasankari Amma.
The tying of 'thali' was followed by exchange of garlands and handing over the 'pudava', a piece of new cloth to the bride by the bridegroom, a long-followed tradition of matrilineal Nair families of Kerala.
The ceremonies took place before a brass metal lamp with a 'para' filled with paddy and coconut shoots, symbolizing plenty and prosperity.
The invitation to the wedding on the eve of Onam festival was limited to close relatives, friends and well-wishers. But a large number of mediapersons gathered to cover the occasion.
The party from the bride's side included Sunanda's father Col Pushkarnath Das. Congress leader Manishankar Aiyar was the only senior politician present for the ceremony.
"I wish Tharoor stays in headlines but for the right reasons. My wedding gift to Tharoor would be to take away his Twitter!" said Mani Shankar Aiyar, Rajya Sabha MP, Congress.
Tharoor's mother Lily Tharoor, sons by his first marriage Eshan and Kanishk and sisters Sobha and Smitha were present.
Tharoor, an MP from Thiruvananthapuram, had to quit on April 18 as Minister of State for External Affairs following a controversy over his association with the bid for the Kochi IPL team.
Controversy had become the other name for Tharoor who had parachuted into the rough and tumble of Indian politics from the air-conditioned and cushy environs of international diplomacy.
The year-long turbulent political career of the flamboyant diplomat saw him leaping from controversy to controversy leaving his party Congress as also the government red-faced from time to time.
He was an unconventional politician who broke many unwritten rules of politics and raised many an eyebrow by 'tweeting' on matters -- both personal and not so personal.
This is the former UN diplomat's third marriage.
His first marriage was to Tilottama Mukherjee, an academic who he knew from school days in Calcutta. Tharoor recently divorced his second wife, Canadian Christa Giles.
Sunanda was overwhelmed by emotion for a moment as the wedding ceremony got over.
A Kashmiri, Sunanda holds a Canadian passport. For her too, this is the third marriage.
Her first husband was Sanjay Raina, a Kashmiri. After that marriage ended in a divorce, she married a Kerala businessman Sujith Menon but he died in a road accident in 1997. She has a 17-year-old son from her second marriage.
When reporters urged him to speak a few words before the ceremony, Tharoor quipped, "This is wedding, no sound byte is necessary."
However, his friend Aiyar, who came with his wife, was the first to greet the newly-wed couple. "We are very much delighted to see Shashi and Sunanda getting married and live happily together. We thought this is a moment we should share," Aiyar said.
As part of the simple ceremony, a pandal was put up at Tharoor's 200-year-old family home, known in local parlance as 'Tharavad'. Tharoor's maternal uncle Narayananunni and a village elder presided over the ceremony.
Befitting the Nair tradition, women members of the family went to the 'kathir mandapam' (where the bride and bridegroom are seated) carrying 'thalapoli' on lighted platters laid out with auspicious articles like coconut and flowers, to invoke blessings of the mother goddess.
Tharoor is hosting a reception on Monday in Thiruvananthapuram, from where he was elected to Lok Sabha on a Congress ticket.