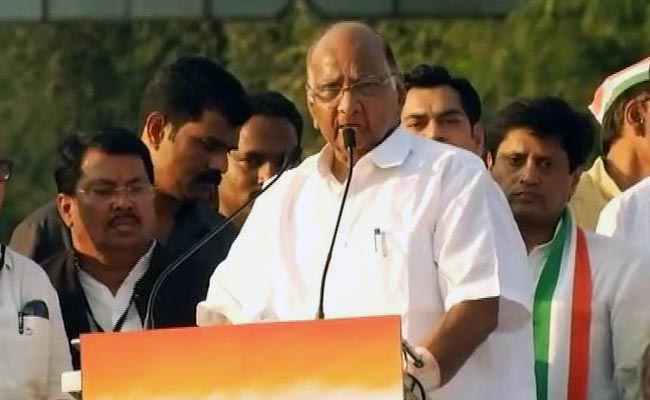 Kolhapur:
Nationalist Congress Party or NCP chief Sharad Pawar today said reservations for the Maratha community could be brought about with an amendment in the Constitution.
The veteran leader added that he could hold a dialogue with the Opposition parties to seek support for the amendment if the Union government showed its willingness.
Speaking at a press conference in Kolhapur, Mr Pawar said, "Giving reservations to the Maratha community is possible by bringing about necessary amendment to the Constitution."
"If the Centre is willing, then I can speak to opposition parties to support such an amendment," he added.
When the NCP was in power, it had taken a decision to grant reservations to Marathas but the courts rejected it, he said.
Mr Pawar also hit out at Maharashtra Chief Minister Devendra Fadnavis and Revenue Minister Chandrakant Patil and warned them to not add fuel to the fire by claiming that some people were out to disturb the peace in the state in the garb of Maratha stir.
"If Fadnavis or Patil have recordings of people talking about creating disturbances and riots (in the garb of Maratha reservation stir), then they should make these recordings public," Mr Pawar said.
Mr Patil had on Friday claimed that the government had an audio clip in which some "big leaders" were allegedly conspiring to let loose snakes amid the devotees gathered at Pandharpur on July 23. Mr Fadnavis had made the same allegation earlier.
Attacking Mr Patil further, Mr Pawar said that the minister should be "responsible while criticising" him.
"Patil should remember that I successfully contested general elections 14 times. He has not faced a single general poll so far," he said.
The NCP leader also visited the Dasara Chowk here where Maratha community representatives are on an indefinite protest demanding reservations for the community.
Announcing that the NCP and the Congress would fight the 2019 Lok Sabha polls jointly, Mr Pawar said discussion on seat sharing will gather speed after the Monsoon session of Parliament.
"Mallikarjun Kharge and Ashok Gehlot will represent the Congress while the NCP's side will have (Maharashtra unit chief) Jayant Patil and Praful Patel," Mr Pawar said.
Speaking at another function in Kolhapur, Mr Pawar supported the demand by party lawmakers Dhananjay Mahadik and Supriya Sule to bestow Bharat Ratna upon Chhatrapati Shahu Maharaj and social reformer Jyotiba Phule.
"Discussions on these demands are going on in Delhi. Many people in the ruling party are saying that these demands cannot be turned down," Mr Pawar said at an event to launch a book on Shahu Maharaj
"Bharat Ratna to Chhatrapati Shahu Maharaj and Mahatma Jyotiba Phule will be an honour for the award itself," he added.