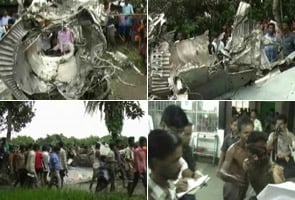 New Delhi:
Seven pilots were killed in 19 crashes involving MiG-21 planes of the Indian Air Force (IAF) since 2005, the parliament was informed on Wednesday.
"Since April 2005, a total of 19 MiG-21 aircraft of the IAF have crashed. Seven pilots were killed in the crashes," Defence Minister A.K. Antony said in a written reply in the Rajya Sabha.
In reply to another question in the upper house, Antony said the number of accidents involving IAF aircraft "has not gone up."
"Thirteen accidents occurred during 2008-09, 14 accidents during 2009-10 and two accidents have taken place during the current year up to Aug 5," he said.
The minister said that every IAF air crash was investigated by a court of inquiry. "Accidents are due to reasons like technical defects and human error."
He said phasing out of planes was "contingent upon various factors like technical life of the aircraft and operational requirements of the IAF" and that it was reviewed from "time to time".