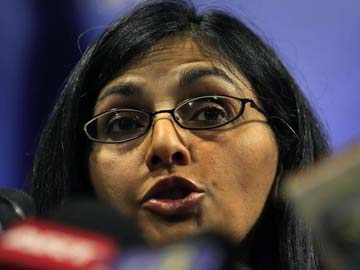 Bangalore:
Seeking to deepen Indo-US ties after a recent series of setbacks, including a stand-off over the Devyani Khobragade episode, a top US diplomat of Indian origin today began her three-day visit to India.
Nisha Desai Biswal, US Assistant Secretary of State for South and Central Asian Affairs, had planned her India visit in January but it was postponed over the diplomatic row caused by the US arresting Khobragade on visa fraud charges in December.
As she arrived in Bangalore, Biswal announced that the United States Agency for International Aid (USAID) will provide USD 2.7 million for increasing clean energy access to India.
USAID awarded a USD 200,000 grant for SELCO Foundation to help establish six "innovation labs" that will develop and test sustainable energy solutions. The agency is also supporting a USD 2.5 million loan guarantee to Orb Energy, a clean energy service provider.
"I am pleased to be here to highlight this latest addition to the constellation of amazing cooperative opportunities between the United States and India to expand access to clean energy," she said.
"Nowhere is US-India collaboration more important than in working together to address global environmental challenges," she said.
Biswal also said US and Indian scientists, entrepreneurs and government officials will gather next week in Delhi to discuss collaboration on clean energy technology, non-renewables, energy efficiency and civil nuclear issues.
During her stay, Biswal will meet senior Indian officials to discuss the full range of bilateral and regional issues, including shared defence, security, and economic engagement across the Indo Pacific corridor.
Biswal's visit, which Washington expects would to some extent mend frayed ties with India, comes at a time when the Indo-US relationship has suffered setbacks, including on issues of trade and the Khobragade stand-off.
In Bangalore, Biswal, on her first visit to India, met government and business leaders to discuss joint efforts to foster innovation, increase high-tech and engineering engagement and strengthen US-India economic ties.
She also met business leaders from the American Chamber of Commerce discussing opportunities for US-India partnerships in Karnataka and visited Indian Space Research Organisation where she discussed the US-India space cooperation with ISRO Chairman K Radhakrishnan and learnt about India's Mars Orbiter Mission.
Biswal later left for Delhi.