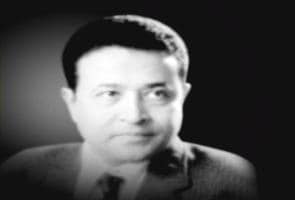 New Delhi:
Calcutta High Court judge Soumitra Sen will be the second judge in Independent India to face impeachment proceedings after the process to oust a Supreme Court judge was politically defeated 17 years back.
Sen could go down in history as the first judge to be removed from office and stripped of his robes by impeachment if the proceedings against him in Parliament are successful.
The first-ever impeachment initiated against a judge-V Ramaswami who retired as an SC judge in 1994- failed after the motion collapsed on the floor of the Lok Sabha in 1993 following abstentions by the Congress.
The impeachment process had catapulted noted lawyer Kapil Sibal, now a Union Minister, to national limelight for his spirited defence of the judge.
Care was taken to see that Sibal did not enter the House because he was not a member.
53-year old Sen , who has been found guilty of misappropriating "large sums" of funds and making false statement regarding it, has not been assigned any judicial work for several months.
A motion for impeachment proceedings against Ramaswami was defeated in the Lok Sabha in 1993 after the ruling Congress asked its MPs and allies to abstain from voting.
The judge, in fact, contested the Lok Sabha elections in 1999 on an AIADMK ticket from Sivakasi and stood second, polling over 32 per cent of the votes.
At the height of his career, he was appointed Judge of the Supreme Court on October 6, 1989 from which he retired on February 14, 1994.
A scandal surfaced in the middle of 1990 amid reports about his ostentatious expenditure on his official residence during his tenure as a Chief Justice of Punjab and Haryana.
In a serious turn of events, on February 1, 1991, Supreme Court Bar Association passed a resolution calling for his impeachment and requesting Chief justice not assign him any further legal work.
BJP and Left parties submitted a notice of motion to the Parliament seeking his removal from office.
Accepting the motion on 12 March 1991, Speaker Rabi Ray constituted a committee comprising Justice P B Sawant of the Supreme Court, Chief Justice P D Desai of the Bombay High Court and Justice O Chinnappa Reddy, retired judge of the Supreme Court to investigate the affair.
The committee found Ramaswami guilty of 11 out of 14 charges.
The impeachment motion was placed in the Lok Sabha for debate and voting on May 10, 1993.
Of 401 members present that day, there were 196 votes for impeachment and no votes against and 205 abstentions by ruling Congress and its allies.
The motion which required not less than two-third majority of the total number of members present in both houses of the Congress and an absolute majority of its total membership thus failed to pass.