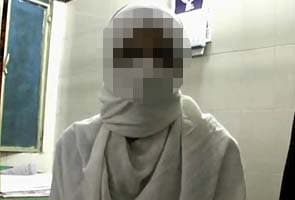 Moradabad:
A school girl from Uttar Pradesh is fighting for her life in a Delhi hospital after she set herself on fire after allegedly being molested by a friend. He has been arrested.
The girl is in critical condition with third-degree burns, said doctors.
She is being treated at Safdarjung Hospital, where a young woman spent 10 days after she was gang-raped on a Delhi bus in December, triggering massive protests and a demand for better policing for women. She died two weeks later.
On Monday, the 16-year-old from Moradabad in Western UP was allegedly asked by a male friend to watch a film with him; the police case says when she refused, he molested her.
This morning, the girl set herself on fire and was rushed to Delhi by the district administration.
Since December's gang-rape case in Delhi, India has been introspecting about societal attitudes towards women, and demanding better laws to protect them.
The government is expected tomorrow to clear a new bill which provides tougher sentences for crimes against women, and for the first time, criminalizes voyeurism and stalking. So far, the proposal has been delayed because senior ministers have been divided over some of its main features - like whether the age of consent should be lowered from 18 to 16.