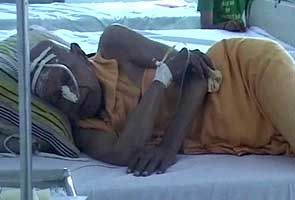 Varanasi:
Noted environmentalist Swami Gyan Swarup Sanand, who has been fasting to press for his demand of conservation of Ganga river, has once again been forcefully admitted to hospital in Varanasi. The Save Ganga activist was forcefully admitted to hospital late Friday night by police after his medical report showed his deteriorating health.
The environmentalist, formerly known as Dr GD Agrawal, had started his third fast without water on May 2, demanding shut down of hydel projects on river Ganga.
Government officials tried to persuade Dr Agrawal to give up his fast for two days, but he did not listen. His medical examination was conducted on Friday, and the report was sent to the Centre. Noting his deteriorating health, the government ordered that he be immediately transferred to a medical facility, sources in district administration said.
Doctors say his health is much better now. Dr Dhirendra Pratap Singh, who is looking after the activist, said, "He was also sent to AIIMS, in Delhi earlier. He had a heart problem, and his age is more and his weight is very less."
But the activist is not ready to give up his protest. Speaking to reporters he said, "I am not worried about myself. This body is not mine. I can't see our mother Ganga in this condition."
He first started fast from March 9 for the cause, but following deterioration in health, he was admitted, first to a district hospital and ultimately to AIIMS in Delhi, where Union Coal Minister Sriprakash Jaiswal broke his fast after an assurance of action.
However, later, he alleged the Centre was not taking any measures and again went on fast on April 10.
Owing to his health, he could not attend the meeting of National Ganga River Basin Authority chaired by Prime Minister Manmohan Singh on April 17. Now, he has returned here and again started fast for the cause.