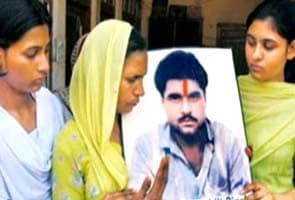 New Delhi:
Prime Minister Manmohan Singh has expressed grief at the death of Indian prisoner Sarabjit Singh in Pakistan and said that the government will make arrangements to bring his body to India for last rites.
"Pakistan did not heed pleas of India and Sarabjit's family for taking a humanitarian view in this case," a post on his official Twitter account quoted him as saying.
(PM's statement on Sarabjit Singh's death)
The Indian government had made three formal appeals to the Pakistan government since
Friday's murderous attack on Sarabjit in a Lahore jail, to release him and allow him to be brought to India for better medical treatment.
Indian officials are now in touch with the Pakistan government to bring back his body to India.
The Prime Minister has also demanded that "Criminals responsible for the barbaric and murderous attack on Sarabjit must be brought to justice."
Sarabjit was attacked in his cell at Lahore's Kot Lakhpat jail by a group of inmates with bricks and pieces of tin. He was admitted at the Jinnah hospital with severe brain injuries and doctors had warned from the start that his recovery was unlikely; he was comatose and on ventilator support.
His family has sought that Sarabjit's body be given to them and that he be accorded a "martyr's funeral."