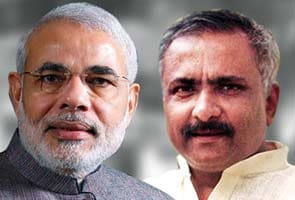 New Delhi:
Narendra Modi has got his way. Once again. Sanjay Joshi, who was re-inducted into the BJP only in September last year, has resigned from the party. BJP chief Nitin Gadkari has accepted the resignation.
Sources said Mr Joshi has resigned from primary membership of the BJP to bring about a truce between Mr Gadkari and Gujarat Chief Minister Narendra Modi, who has had a bitter rivalry with Mr Joshi for years and was opposed to his being brought back into the party. There has been much unrest in the party ever since Mr Joshi was forced to quit the BJP's national executive last month; Mr Modi refused to attend a national executive meet in Mumbai because Mr Joshi was there. Hours after Mr Joshi quit then, Mr Modi had acquiesced and landed in Mumbai.
(Who is Sanjay Joshi?)
But Mr Gadkari, who had chosen to get back Mr Joshi to the party last year, was vocal in his praise for Mr Joshi's "sacrifice."
Mr Joshi an RSS and BJP veteran, had to quit the party in some ignominy in 2005 over a sleaze CD. After six years in political exile he was brought back last year by Mr Gadkari, to play a key role in the BJP's UP election campaign. Mr Gadkari handpicked him for the role, reportedly with the blessings of the RSS.
Mr Modi's deep sulk began then. He skipped an important party meet in October last and also refused to campaign for the UP elections because of Mr Joshi's presence. His arm-twisting the party worked and Mr Modi has prevailed again, with Mr Joshi now completely out of the BJP once more.
Despite the victory, which underlines his growing clout in the BJP, Narendra Modi has not emerged unscathed from the Sanjay Joshi episode, which has laid bare resentment against the Gujarat CM's style of functioning. Bihar Deputy Chief Minister and senior BJP leader Sushil Kumar Modi, was quoted today by Economic Times as saying that the manner in which Sanjay Joshi was dropped was not right. "One should not try to hijack the BJP and force a decision on it...This has not gone down well in the Sangh Parivar," Mr Joshi said.
A recent editorial in the BJP magazine, the Kamal Sandesh, offered a harsh assessment of Mr Modi. Without naming him, the article warned that no leader should consider himself or herself bigger than the party. It also said, "People who attain heights should raise the level of their thoughts...it's been seen, people who attain heights glare down at people below them." The reference to Mr Modi was apparent.
In Mr Modi's Ahmedabad, mysterious posters have been emerging overnight, praising Mr Joshi and obliquely criticizing the Gujarat CM. Anti-Modi leaders like Kehsubhai Patel from within the party, and others like Gordhan Zadafia and Suresh Mehta who left the BJP have been increasingly vocal about what they call Mr Modi's autocratic style of functioning. The BJP can ill-afford such crises months before elections are held in Gujarat.
Mr Joshi, sources said, will now return to the RSS fold.
With the BJP's deep internal crisis playing out for all to see, sources say the party's parent body the Rashtriya Swayamsevak Sangh (RSS) stepped in to bring about peace. The RSS sees Mr Modi as the future face of the BJP. Mr Gadkari too is a man handpicked by the RSS, which ensured an unprecedented second term for him as party President at last month's national executive meet. With the 2014 General elections looming, it is essential that the two men have a smooth relationship.
There are other crises. Mr Gadkari is reportedly not terribly popular among top leaders of the BJP, who are said to have deep anger at the RSS' increasing interference in party affairs. In a recent blog post, senior BJP leader LK Advani took a clear aim at Mr Gadkari and referring to recent crises that resulted from the BJP president's unpopular decisions, he wrote, "The mood within the party these days is not upbeat. The results in Uttar Pradesh, the manner in which the party welcomed BSP Ministers who were removed by Mayawati ji on charges of corruption, the party's handling of Jharkhand and Karnataka - all these events have undermined the party's campaign against corruption."
Mr Advani also offered a grim assessment of his party's vital stats. "When these days media-persons attack the UPA Government for its string of scams, but at the same time regret that the BJP led NDA is not rising to the occasion, I as a former pressman myself, feel they are reflecting public opinion correctly," Mr Advani blogs. "That the party is in power in as many as nine states today is no compensation for the lapses committed. I had said at the Core Group meeting that if people are today angry with the U.P.A. Government, they are also disappointed with us. The situation, I said, calls for introspection," he added in warning.