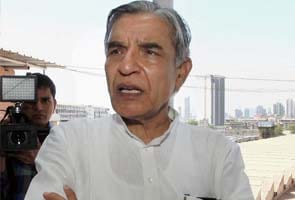 New Delhi:
The Law and Railways Ministers, who have been smeared by scandal, will stay for now, the ruling Congress has decided, to loud protests from the opposition. The BJP's Arun Jaitley has said "some heads must roll." (
Watch
) The Samajwadi Party, which gives crucial outside support to the Congress-led UPA, has also demanded that Pawan Kumar Bansal must resign as Railways Minister.
Only four days remain of the Budget session of Parliament and there is much business to be transacted. The Houses have been stalled for much of the two weeks since they reconvened after a recess. Mr Jaitley said if the government does not sack its two ministers then it, "must take the responsibility for a political stalemate."
The Congress core group met on Sunday evening, the second time in two days, to discuss the growing calls for the ministers' resignations. Railways Minister Pawan Bansal's nephew has been arrested for allegedly accepting a 90 lakh bribe in exchange for a top job on the Railways Board. There are reports that he could be questioned by the CBI.
Law Minister
Ashwani Kumar
allegedly asked for a CBI report on its coal investigation to be diluted before it was submitted to the Supreme Court. Today, in court, the CBI is expected to reveal what changes he wanted. (
Read
)
On Sunday evening union minister Manish Tewari said, "As far as the rail minister is concerned, a probe is underway. He has welcomed the probe. We cannot pre-judge the issue till the investigation is over."
External Affairs Minister Salman Khurshid has defended the law minister. "Why can't the Law Minister consult investigative agencies to whom he provides service of law officers? The government may have been under the scanner but we have a right to find out what's happening." (
Watch
)
But many in the Congress believe that Ashwani Kumar's actions make it untenable for him to remain in office. And that this might impact the case of the Railways Minister too.
The Opposition has been demanding the resignation of the Prime Minister and Mr Kumar, accusing them of trying to interfere with what is meant to be an independent probe into how private players got coal licenses.
The scandal around the Railways Minister, therefore, comes as the government is already struggling to minimise the damage of "Coal-Gate".
The Congress-led coalition has hurtled from one scam to another, raising the danger that it could be perceived as a hot-spot for graft just months before the national election in which it will ask voters for a third consecutive term.