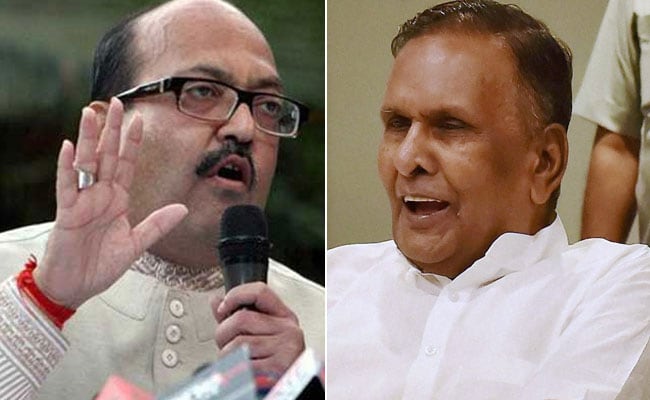 Highlights
Mr Singh was expelled from Samajwadi Party six years ago
Mr Verma recently quit Congress and returned to the Samajwadi Party
SP claimed decision to field them for Rajya Sabha polls was 'unanimous'
Lucknow:
Over six years after it expelled Amar Singh, the Samajwadi Party today "unanimously" declared him as its candidate for the Rajya Sabha polls, setting the stage for his possible return to the party.
The party also nominated six others, including former Union minister Beni Prasad Verma, an influential Kushwaha leader who recently quit Congress and returned to the Samajwadi Party, and realtor Sanjay Seth for the biennial polls scheduled next month.
When asked about when would Mr Singh, a former confidante of Mulayam Singh Yadav, rejoin the party, Shivpal Singh Yadav, a UP Minister and brother of party supremo Mulayam Singh Yadav said," It will be decided by Netaji (Mulayam) and Amar Singh. We have earlier also sent Congress leaders Pramod Tiwari and PL Punia to Rajya Sabha."
Amar Singh along with his close associate Jaya Prada were expelled from the Samajwadi Party in February, 2010. He floated his own political party, Rashtriya Lok Manch, in 2011, and fielded a large number of candidates in 2012 assembly polls. However, none of his candidates won. He had joined the Rashtriya Lok Dal and contested the 2014 Lok Sabha poll from Fatehpur Sikri but lost.
Samajwadi Party denied there were "differences" over some candidates and claimed the decision on fielding them for the Rajya Sabha polls was "unanimous".
"The SP parliamentary board has unanimously decided seven names for Rajya Sabha. There were no differences and party supremo Mulayam Singh Yadav was authorised to take the final decision. The names were read out in the meeting," Mr Singh, also the party spokesman, told reporters.
The board has taken the decision after much thought and it will strengthen the party, he said, refuting reports of certain "objections" raised over some candidates at the meeting held today.
The seven candidates are -- Beni Prasad Verma, Amar Singh, Sanjay Seth, Sukhram Singh Yadav, Reoti Raman Singh, Vishwambhar Prasad Nishad and Arvind Pratap Singh.
Mr Seth is a controversial Lucknow-based builder, who was earlier recommended to be nominated an MLC by the ruling party but his name was not approved by Governor Ram Naik. The governor had also rejected the government's proposal to nominate Rajvijay Singh and Kamlesh Pathak to the Legislative Council, contending that they did not qualify for it due to criminal cases pending against them.