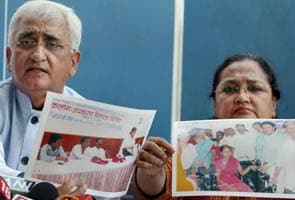 New Delhi:
The Delhi High Court on Friday asked TV Today Network and 13 others to file a reply on a defamation suit filed by the wife of Law Minister Salman Khurshid for broadcasting a programme alleging their NGO siphoned off lakhs of rupees meant for the disabled.
Seeking damages to the tune of Rs 1 crore, the lawsuit by Louise Khurshid was filed against TV Today for airing defamatory programme on its channels, Headlines Today and Aaj Tak.
Justice Valmiki J Mehta issued notice to 14 respondents, including TV Today and its officials, and asked them to file their reply within four weeks and posted the matter for January 30.
The court also sought clarification from Louise Khurshid whether the suit was filed in her personal capacity or on behalf of Dr Zakir Hussain Memorial Trust.
The court also summoned documents related to the case before the joint registrar by January 7.
It also asked senior advocate CS Sundaram, appearing for TV Today, that with the report shown on channels, they had also telecast Khurshid's version.
Louise Khurshid has filed a suit for "permanent, prohibitory and mandatory injunction and damages" against Aroon Purie, chairman and editor of TV Today, editorial director of India Today and Headlines Today MJ Akbar besides Shams Tahir Khan, Rahul Kanwal and Arun Singh.
"Pass an order in favour of the plaintiff and against the defendants for the damages to be paid to the tune of Rs 1 crore along with costs to the plaintiff," the petition said.
Mrs Khurshid also sought "unconditional apology" in writing and with restraining order for telecasting the story in future.
"Pass an order by way of mandatory injunction directing the defendants to render an unconditional apology in writing to the plaintiff as well as telecast the same on the media networks and to withdraw the allegations contained in the story against the plaintiff and/or on her family members and/or the trust," the petition said.
According to a report on Hindi TV channel Aaj Tak, the Social Welfare and Empowerment Ministry had granted Rs 71.50 lakh to Dr Zakir Hussain Memorial Trust for distributing tricycles and hearing aids to the disabled in 17 districts of Uttar Pradesh.
The channel, in a sting operation, said the NGO forged signatures of senior officials in several districts of the state to deprive the physically challenged who were eligible for grants under a scheme.
While Salman Khurshid is president of the trust, his wife is the project director. Both of them have rejected the allegations.