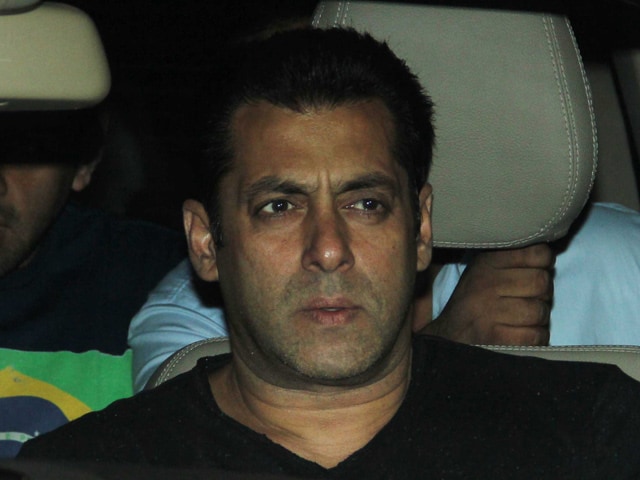 Mumbai, Maharashtra:
Pointing to "discrepancies" in the 2002 hit-and-run case involving Bollywood superstar Salman Khan, his lawyer today raised a question in the Bombay High Court as to why police had gone for a blood test when no witness or First Information Report (FIR) had ever suggested that the actor was drunk or was smelling of liquor.
Amit Desai, arguing on Mr Khan's appeal against conviction, alleged discrepancies made by police the 14-year-old drink-and- driving case and said that the actor had not taken alcohol on the day of the mishap.
"Why Kisan Shengal, prosecution witness 27 and Senior Police Inspector of Bandra police station, took a decision to draw blood samples of Salman Khan...Why ? What prompted him?...," asked Mr Desai while arguing before Justice A R Joshi.
The lawyer pointed out that in the entire evidence, there is no mention of police constables, officers and, or staff speaking about the smell of alcohol when the appellant arrived at Bandra police station on September 28, 2002 when the mishap had occurred.
Mr Desai said that the complainant as well as star witness late Ravindra Patil, who was the police bodyguard of Salman at the relevant time, had made a mention of Salman smelling of liquor or taking drinks.
"There is absolutely no mention - that he was slurring, that he was smelling, that he was staggering, that his gait was not proper....Our case is that he did not have alcohol.. then why PW-27 (Investigating officer Kishen Shengal) took the decision to send him to hospital?," said the lawyer.
Reading out evidence, Mr Desai said "PW-27 says he asked Police Inspector Sachin Suryawanshi to take Salman for drawing blood sample....PW-22 (Sub-Inspector Vijay Salunke) who took him to hospital states that he was told by PW-27....somewhere something happened and something is missing... there is lot of confusion, lot of discrepancies."
On May 6, the actor was sentenced to five-year jail term for culpable homicide not amounting to murder and driving under the influence of liquor. One person was killed and four injured when his car had rammed into a shop in suburban Bandra on September 28, 2002.