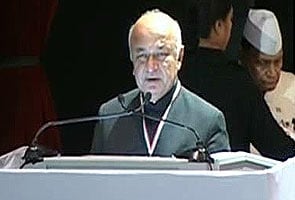 New Delhi:
The BJP has accepted and even welcomed Home Minister Sushil Kumar Shinde's carefully worded expression of regret for his "saffron terror" remark, but its ideological mentor, the RSS, says nothing short of an outright apology will do.
RSS spokesperson Ram Madhav said on Thursday afternoon, "Shinde's statement in Jaipur was shocking and embarrassing. We are not satisfied with this. He must have apologized earlier." Only a few hours earlier, BJP president Rajnath Singh had said, "We welcome the Home Minister's apology. The BJP does not want any disturbance in the Parliament."
Rajnath Singh took over as BJP chief last month, with the blessings of the RSS, and one of his first major tasks was to organise a large-scale protest against the Home Minister for saying at a Congress conclave in Jaipur that the BJP and RSS promote terror at their training camps.
Yesterday, Mr Singh led a march of top leaders and party workers in Delhi and even courted arrest briefly, threatening to take the protest to Parliament if Mr Shinde did not apologise. The government then brokered peace with the main opposition party, with Mr Shinde formally voicing regret. Going out of its way to ensure Parliament was not disrupted on the Shinde issue, the Congress even reportedly sent the draft of Mr Shinde's statement to the BJP's Sushma Swaraj for approval.
While there seems to be a disconnect between the BJP and RSS in their public stance on Mr Shinde's statement, political watchers say it is more likely strategic.
For the BJP, the government's conciliatory move offered a way out of being seen as disrupting important legislative work on an issue that had more to do with its political agenda and was not really of national import. Also, its partners in the National Democratic Alliance like the Janata Dal (United) were reportedly uncomfortable about targeting Mr Shinde on an issue linked to the BJP's Hindutva agenda.
But the RSS has no such political compulsions. It has identified the relaunch of Hindutva as a key election agenda in a bid to regroup the traditional Hindu votebank of the BJP. In Mr Shinde's comments, the RSS reportedly saw a bid to polarise minority votes and wants to use that to the advantage of the BJP in the run-up to the 2014 general elections.
Get Breaking news, live coverage, and Latest News from India and around the world on NDTV.com. Catch all the Live TV action on NDTV 24x7 and NDTV India. Like us on Facebook or follow us on Twitter and Instagram for latest news and live news updates.