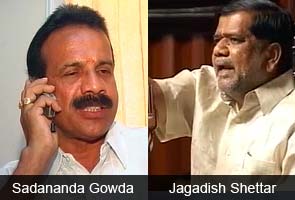 Bangalore:
Sadananda Gowda will be Karnataka's new Chief Minister.
The BJP's 121 MLAs voted for Mr Gowda through secret ballot at a legislature party meeting held at Bangalore's Capitol Hotel on Wednesday afternoon. Senior BJP leaders Arun Jaitley and Rajnath Singh supervised the voting, once it was clear that no consensus on one name was possible.
Earlier, MLAs were seen arriving in buses, cheering loudly for Mr Yeddyurappa - he claimed he has the support of over 70. Another lot showed up brandishing the Victory sign - they were part of a camp of about 50 MLAs led by Ananth Kumar. The meeting was delayed as each leader sought to convince the central leaders that his man be the next CM. So divided is the BJP at the moment that there were differences even in the way the two camps wanted the voting done - the Yeddyurappa camp wanted open voting while the Ananth kumar camp favoured the secret ballot.
Mr Yeddyurappa had quit as Karnataka Chief Minister reluctantly on Sunday, days after the Santosh Hegde report on illegal mining severely indicted him and his family. His resignation was accompanied by the usual political drama - clinging to the chair till he could, then picking a propitious time to resign and finally, a massive show of strength as he walked to the Raj Bhawan flanked by his 70 MLAs. In all that, Mr Yeddyurappa also made clear that while he was acceding to party wishes that he quit, only a person of his choice should be his successor.
But three days later, as the BJP headed into the delayed meeting today to pick the new CM, there was clearly a battle ahead. The two rival BJP groups had been huddled in two different luxury hotels of Bangalore and each insisted that their man would be the next CM. Mr Yeddyurappa's group was quite sanguine that Sadananda Gowda would be picked.
Not so fast, the Ananth Kumar camp had said. The BJP General Secretary has had a troubled relationship with Yeddyurappa, who is said to have shot down the proposal that Ananth Kumar take over as Chief Minister. Once that happened, his camp wanted to ensure that one of their team made it to the chair. "Central leaders have taken the opinion of both sides. First we thought of myself, Eshwarappa and Jagadish Shettar. After that we sat and talked - along with Ananth Kumar - and we believe it will be Jagadish Shettar, said R Ashok, the Karnataka Home Minister.
But, Mr Yeddyurappa prevailed.
Caste equations, which matter much, too were at the heart of this fight for the top position. Mr Yeddyurappa belongs to the powerful and dominant Lingayat community. The Ananth Kumar camp wanted Jagadish Shettar, also a Lingayat, to be CM to neutralise Mr Yeddyurappa's indubitable influence. On the other side, the Yeddyurappa camp was pushing for Sadananda Gowda, who is a Vokkaliga, another dominant community. Gowda in the saddle would also mean that Mr Yeddyurappa would remain the Lingayat strongman.
Who is Sadananda Gowda?
Sadananda Gowda, 58, is an MP from Udupi Chikmagalur. He has been BJP state president and a non-controversial one - a considerable feat in a unit that has several power centres. Gowda has also been an MLA and deputy leader of the Opposition in the Karnataka Assembly. The Vokkaliga leader has a law degree and was a sportsman in college.
The affable Gowda lists chatting with family and friends among his interests. He has one son - and has so far had no allegations against him of corruption or nepotism. Issues that led to Mr Yeddyurappa's ouster.