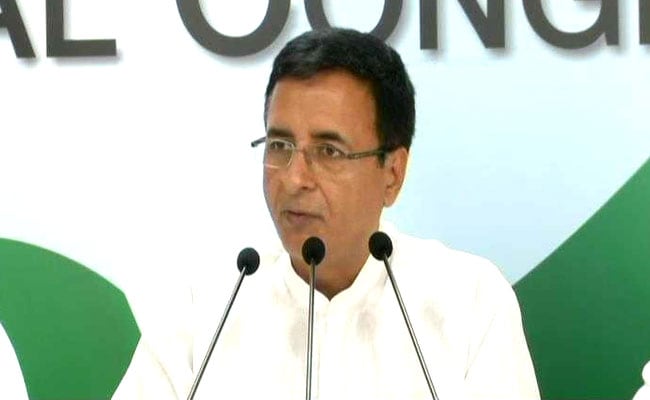 New Delhi:
The Congress today raised questions over the Supreme Court verdict rejecting a batch of pleas seeking a probe into the alleged mysterious death of judge B H Loya, saying it was a sad letter day in the country's history and pitched for a fair probe into the matter.
Attacking the BJP for accusing Congress president Rahul Gandhi's as being the invisible hand behind the petitions seeking the probe, party spokesperson Randeep Singh Surjewala termed the allegations as a malicious attempt which showed the ruling party's jitteriness.
"It is a sad letter day in India's history. The suspicious circumstances in which Loya died, was a matter of deep concern for those who have faith in the judiciary. The copy of the entire judgement is not yet available. But there are still questions before those who believe in the judiciary," Mr Surjewala said.
He raised 10 questions relating to the case as he criticised the verdict and noted that issue of criminality can be decided only through a probe, contending that no investigation was done into the death of Judge Loya, who was hearing the high-profile Sohrabuddin Sheikh fake encounter case.
In this background, the BJP's attempt to make false capital out of the Supreme Court judgement must be condemned with strongest possible words, he added.
Mr Surjewala also stressed that the Congress was not among the petitioners seeking a probe into the judge's death and recalled that the party had instead approached the people's court and approached President Ram Nath Kovind along with 14 other opposition parties.
The BJP's attempt to misinterpret the Supreme Court judgement reflects their jitteriness and frustration. We reject and condemn the malicious attempts of the BJP to misinterpret the judgement for finger pointing, he said.
Earlier in the day, Congress leader Abhishek Manu Singhvi said that the top court's verdict dismissing the pleas seeking an independent probe into Loya's death will raise more questions and leave many of them unanswered unless logical reasons were found in it.
A bench comprising Chief Justice Dipak Misra and justices A M Khanwilkar and D Y Chandrachud said there was no reason to doubt the statements of four judges on the circumstances leading to the judge's death and the documents placed on record and their scrutiny established that the death was due to natural cause.
Judge Loya had died of cardiac arrest in Nagpur on December 1, 2014 when he had gone to attend the wedding of a colleague's daughter.
Immediately after the court gave its verdict, the BJP mounted an attack on the Congress, alleging that the "invisible" hand behind the petitions was that of Mr Gandhi who tried to use the judiciary for "character assassination" of its chief Amit Shah.