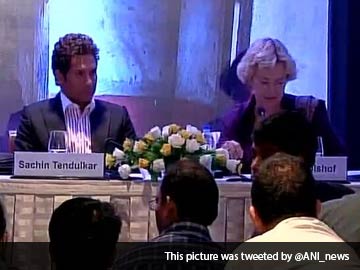 Mumbai:
Recently-retired batting legend Sachin Tendulkar today became UNICEF's first brand ambassador for South Asia and is all set to work in promoting hygiene and sanitation in the region.
"Thanks for allowing me to start this wonderful second innings of my life. I'm looking forward to being an ambassador for UNICEF and serve to the best of my ability. This is an innings that is really really important to me, so I will try my best," said Tendulkar.
The batting icon, who has been involved with the global organisation for the last 8-10 years, was today named its ambassador for South Asia region for two years.
Tendulkar said it was hard to digest that many people around the world did not have access to clean toilets.
"I was surprised to know that 36 per cent of the world population don't have access to safe and clean toilets. In today's day and age to think about this basic facility not being available to a common man, it is really difficult to digest," he said.
"If a person defecates in the open and goes back home and that happens to be a mother, because in most of the family it is the mother who runs the house. She is the one who is cooking food for all the family members, she is the one who is feeding the baby with her own hands because that is the attachment and a bond that any mother and child would share. And if the hands are not washed with soap, can you imagine the result. It can actually take away the child's life. For an adult's negligence, a child cannot lose its life," he added.
The 40-year old said he was baffled by the statistics on the high number of children dying due to lack of proper hygiene.
"Also another statistics which baffles me and I was disheartened to know was that 1600 children die everyday because of diarrhoeal infected diseases. I just want to help UNICEF to make more people aware of this initiative that I am part of. It is as simple as washing your hands with soap," he said.