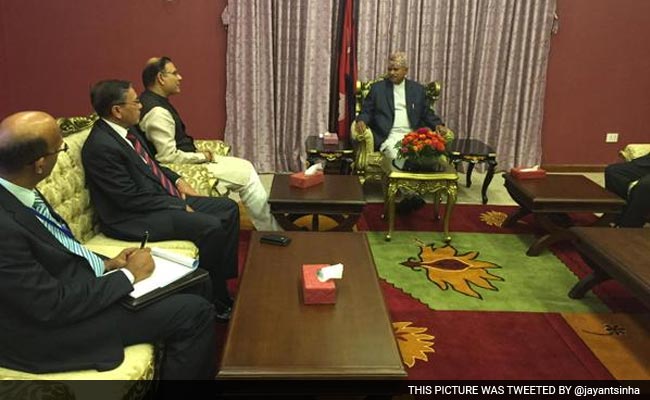 Kathmandu:
Finance Ministers of the South Asian Association for Regional Cooperation (SAARC) including from India gathered to discuss closer economic cooperation in the region, including connectivity.
Addressing the 7th Meeting of the Finance Ministers of the SAARC, Nepali Prime Minister Sushil Koirala stressed on the need to forge broader cooperation among the member countries of the grouping for peace, stability and development in the region.
"Close economic cooperation is essential for lasting peace and prosperity," he told the meeting attended by Jayant Sinha, Minister of State for Finance, India; Ishaq Dar, Finance Minister of Pakistan, Abdul Muhith, Finance Minister of Bangladesh, and Mohamed Zuhair, Deputy Minister for Finance, Maldives among others.
"We believe that the vision of South Asian Economic Union (SAEU) is relevant and can be achieved in a phased manner within a reasonable period of time with an inbuilt provision for sharing benefits equitably among its member countries," Mr Koirala noted.
As the chair, Nepal has been working closely with all SAARC member states for the implementation of the decisions contained in the Kathmandu Declaration 2014, he pointed out.
South Asia is a region of vast opportunities endowed with both human and natural resources and that the collective political will and joint efforts could make a difference in changing the development landscape of this region, he noted.
Underlining the need for increased interaction, dialogue and collaboration in the SAARC region, Mr Koirala said there should be substantial cooperation and investment in connectivity and other core economic areas to transform the region into a highly integrated one from its current status of the least integrated one.
"The central message is that in this age of increasing interdependence and interconnectedness the cost of non-cooperation will be colossal," Mr Koirala said.
Nepal's economy is moving towards rapid growth after the April 25 earthquake and power trade agreements with India and other multi-national companies have been struck, he said.
Economic and financial cooperation would help strengthen the unification of the region, Nepalese Finance Minister Ram Sharan Mahat said as he stressed on the need to establish relations with each country, promote inter-country investment and remove the non-tariff barrier with goodwill among the member countries.
SAARC general secretary Arjun Bahadur Thapa underlined the need to create an environment of smooth flow of goods and products within the region through road or rail networks.
There is a need to move towards a strong socio-economic development through the South Asian economic union, he said.