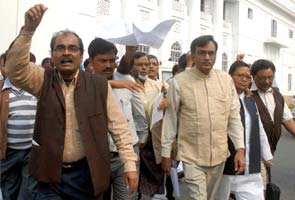 Kolkata:
The West Bengal Assembly was plunged into unprecedented bedlam today with Opposition Left and ruling Trinamool MLAs coming to blows twice inside the House. The Speaker suspended three MLAs belonging to the CPM. One CPM MLA was rushed to hospital. Both sides blamed the other for triggering the trouble. The Left has decided to boycott the House till the suspended MLAs are allowed to defend themselves.
The three suspended Left MLAs are Amjad Hussain, Najimul Haq and Sushanta Besra.
CPM MLA Gaurango Chattopadhyay was rushed to hospital because of an injury. Later, TMC also sent one of its woman MLA, Mehmooda Hussain, to the hospital, claiming she had been injured.
"All this happened before the Speaker's eyes. Members of treasury benches participated in the attack," said CPM's Surya Kanta Mishra.
"Utterly false. Three of them attacked the MLAs and they wanted to humiliate the Speaker," countered TMC's Partha Chatterjee who also accused the Opposition of "goondagiri"
Trouble started in the first half of the Assembly session when the Opposition's adjournment motion on chit funds was admitted but a discussion was disallowed. When Opposition leader Surjo Kanto Mishra rose to read the motion, he said the Opposition's motion had been severely edited and that the Opposition was not being allowed to speak.
At this, Left MLAs rushed to the well of the house and began protesting. Treasury MLAs claim there were attempts to attack the Speaker. The clash continued even after the Speaker left the house. The Opposition MLAs then walked out.
When the House reconvened, Trinamool's parliamentary affairs minister Partha Chatterjee protested the behaviour of the Left MLAs. The Speaker then announced that three Left MLAs were being suspended. The Left MLAs once again rushed to the well of the house. The TMC MLAs also rushed to the spot. A TMC MLA pulled the hair of a woman MLA, Debolina Hembrom. The woman fell down under the impact. After that, a physical fight ensued in the House.
"They grabbed me, pulled my hair and my sari...women MLAs and male MLAs of TMC," said CPM's Debolina Hembrom.
The Congress and Left MLAs then walked out of the house and met the governor. The Left has said it will boycott the house till the Speaker allowed the suspended MLAs to defend themselves or withdrew their suspension.
The Congress, who only watched the chaos, has labelled today as a black day for the West Bengal Assembly. On that, even the staunchest political rivals are privately expressing unanimity.