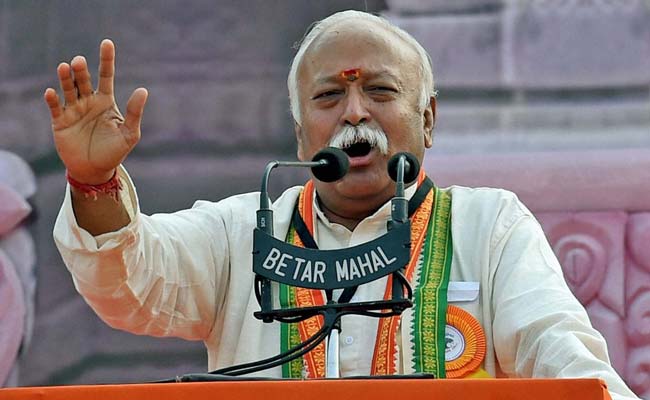 The BJP's debacle in the Delhi Assembly polls and the organisational strategy for the upcoming elections in Uttar Pradesh or UP and Bihar are the key issues that are likely to be discussed at the Rashtriya Swayamsewak Sangh or RSS's four-day meet 'Manthan' which started in Kanpur today.
"It's a pre-decided meeting in which all the active members of the RSS in eastern parts of Uttar Pradesh, right from Gorakhpur to Kanpur, will be participating," a RSS functionary told PTI.
He said the meeting would also include workers active in other organisations, including the BJP and the Vishwa Hindu Parishad or VHP.
"The meeting will chalk out the organisation's future strategy. Bhagwat will interact with top leaders of affiliate groups such as the VHP , the Bajrang Dal, the Durga Vahini and Majdoor Sangh," said Bihari Mishra, VHP's Awadh region secretary.
"Ways to strengthen BJP with a focus on 2017 Assembly elections will be discussed," Mr Mishra added.

"The focus will be on working of the main organization and the shortcomings will be analysed," the functionary said.

"During the visit, Bhagwat will take feedback, including that from the BJP. It will be seen what the problems were," he said.


The second focus will be on the youth and how to get them associated directly with the RSS.
"It will be seen what number has been added in the last one year, because otherwise it won't even help the BJP," the RSS functionary said.

The focus would also be on 'shakhaas' being organised by the RSS, he said, adding, "If shakhaas are strong then there is no need to look for the workers.It's not about statistics, but the real situation on the ground."