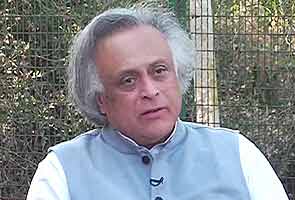 New Delhi:
In the midst of row over Planning Commission affidavit on Below Poverty Line (BPL) cap, Rural Development Minister Jairam Ramesh has written to the Commission's Deputy Chairman Montek Singh Ahluwalia questioning the current methodology and said relying on plan panel's estimate to arrive at cut offs will not resolve the problem.
Asserting that there was need for different yardsticks to identify household for various schemes, he proposed three options one of which (Plan A) suggests that there should be no single BPL list or card.
Instead, he suggests that there should be an exclusion criteria and "all the non-excluded households be part of one main list with subsidiary lists for specific programmes".
These households will be entitled to various schemes based on their various deprivation and inclusion criteria and a cumulative score, he adds.
Ramesh's letter to Mr Montek came following a controversy over the plan panel's affidavit to the Supreme Court that those spending Rs 32 a day in urban areas or Rs 26 a day in villages would no longer be deemed poor by the government.
"Relying on poverty estimates of Planning Commission to arrive at cut-offs will not resolve this problem in any manner. There will have to be different cut-offs for different dimensions and the problem of bunching and exclusion errors will remain," the Minister said in his letter.
Sources said Mr Montek has responded to Mr Ramesh's letter which also suggested three options with pros and cons of each to consider before arriving at a final decision on the issue.
He told the minister that the issue should be discussed as "there is utter confusion on this subject", sources said.
Mr Montek, who is currently in the US, is also learnt to have informed Jairam Ramesh that there was no "necessary connection between a fixed poverty line and eligibility for the subsidised food" and "in any case, Food Security Bill will discuss the priority category".
Mr Ramesh has said that out of the three options, the first option (Plan A) is "politically the best option available and also best ensures that no poor household is excluded".