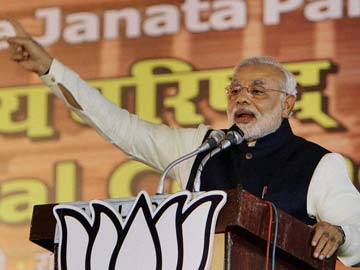 New Delhi:
Narendra Modi, the prime ministerial candidate of the BJP, is being attacked by the Congress after his government suggested that it was using Rs 10.80 a day as the marker to identify subsidy beneficiaries.
Mr Modi's government in Gujarat said over the weekend that welfare schemes like heavily subsidized food grain cannot be offered to households that earn more than Rs 324 a month in villages or Rs 501 in cities. That means that someone with a daily income of Rs 10.80 is not considered among the state's poorest.
Mr Modi's government has said that the contentious figures are based on guidelines issued by the centre in 2004 for the allocation of ration cards which entitle poor families to subsidies. It also said that the centre's calculations allow 21 lakh families to receive subsidized grain and that the "State Government from its own sources, is giving the ration to additional 11 lakh families."
Calculating poverty and the latest numbers are a politically loaded issue with just months to go before the national elections.
"Rs 10.8 definition of poverty in Gujarat is a joke. Mr Modi made fun of the central criterion of Rs 32 a day. If that is a joke, Mr Modi, then what is this?" asked Congress leader Ajay Maken.
The Congress says Mr Modi must apologize.
In rallies held recently, Mr Modi has mocked the central government for declaring in July last year that anyone who earns more than Rs 32 a day in urban areas would not be considered poor and have access to anti-poverty programmes. That benchmark was then withdrawn and the government said it would rely on an official survey to identify beneficiaries who will be entitled to cheap food under the new 1.25 lakh crore scheme championed by Congress president Sonia Gandhi.
The massive subsidized food programme which will benefit nearly 68% of India's population is expected to serve as a major vote-getter for the Congress in the election.