Highlights
Bindi Yadav arrested for helping son Rocky flee after road rage killing
Bindi's former associate Bachchu Yadav says he parted ways with him
In '90s they were part of infamous Bachchu-Bindi gang, accused of crimes
Gaya:
In Gaya's AP Colony, the home of Bindi Yadav is sealed. The one-time assembly election candidate was arrested for helping his son Rocky escape, after he was accused of shooting to death a young man at a road rage incident.
Bindi's wife Manorama Devi, a member of Bihar's Legislative Council, is on the run.
Answers to Bindi Yadav's notorious past are to be found down the road, at the home of his former associate, Bachhu Yadav.
In the '90s they were known as the Bachchu-Bindi gang, notorious for extortion, land grab and abduction. They thrived, some say, because of political patronage. But matters reached a point where both were arrested under Bihar's Crime Control Act.
Sitting in his living room with a group of heavily-built men, Bachchu claims the charges were eventually dropped. And that he parted ways with Bindi when he discovered that Bindi was not on the "right path".
What was the 'wrong path', we ask. He refers vaguely to news reports on Bindi's criminal antecedents. Bindi Yadav faces a host of charges -- 17 at last count -- the most serious of which is a 2011 case for supplying weaponry to Maoist groups.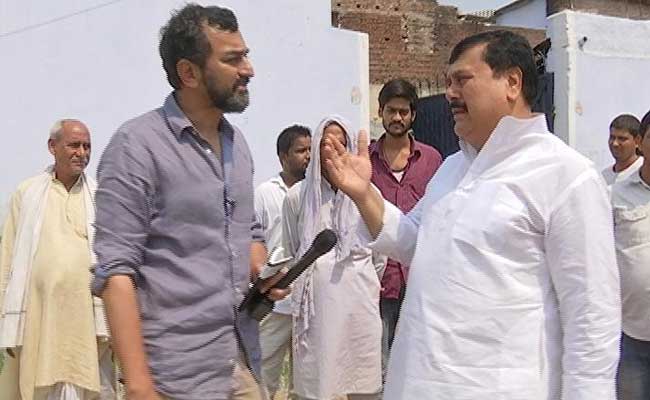 Around the corner is another Lalu disciple and Yadav strongman, Surendra Yadav - a six-time legislator of the Rashtriya Janata Dal or RJD. It is Lalu's proximity, which, some say, has won him multiple candidatures despite facing serious charges.
Local BJP worker Jainendra Kumar said Surendra was a key accused in the 2002 kidnapping of Atul Prakash, an accountant who was allegedly tortured at Surendra's home.
Surendra is reluctant to talk of Bindi Yadav.
He shows us how close they are as neighbours. There are 355 Yadav households in this neighbourhood, he said. "No other caste stays here. He (Bindi) is from here. If I talk about him, it won't look good," he said.
As for the charges, he brushes them aside. "My cases are going on," he says.
Surendra is happier to show us his cowshed, prodding a buffalo to parade before the cameras.
Outside his gate, he waves a Rs 50 note at an old man begging for money. "Do you recognise me?" Surendra asks the man. "Yes of course I do", the man replies. "It's because of you I can get something to eat," he said.