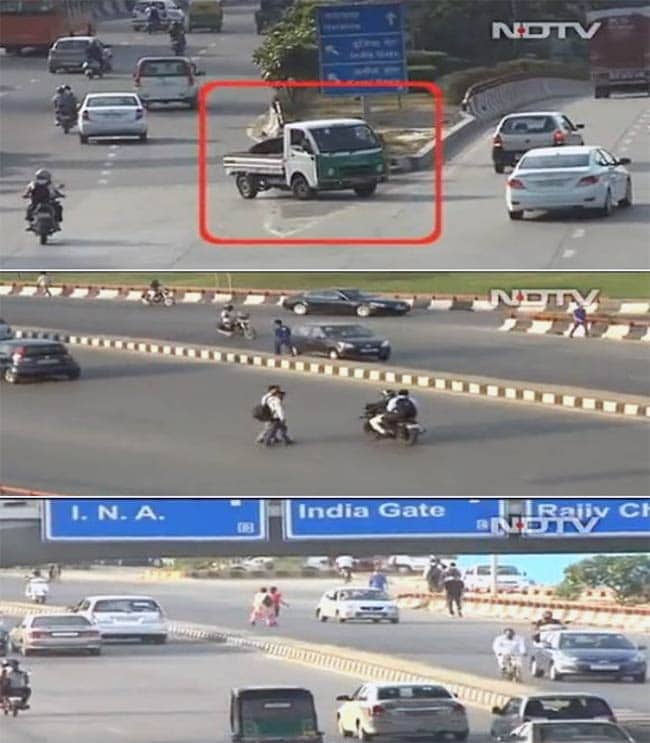 India's roads are a dangerous place with over 1.4 million people dying every year due to accidents. The India Road Safety Week (January 11-17) hopes to draw attention to this serious issue and take some constructive steps to make India's roads safer.
(Stark Reality of Indian Roads: 377 People Die Every Day Due to Road Accidents)
NDTV launched a special Road Safety Week drive, as part of its road safety campaign with Diageo. At the launch of this initiative a 7-point agenda was presented to the government on Sunday. The agenda covers a lot of aspects ranging from the laws that need amendment to the traffic police force that needs training.
(NDTV's 7 Point Agenda on Road Safety Presented to the Government)
Minister of Road Transport and Highways, Nitin Gadkari while lending his support to the campaign also provided details of the proposed road safety and highway bill for 2014. The proposed bill which has been drafted in sync with the best practices of the advanced nations - US, Canada, Singapore, Japan, Germany and the UK is going to cover:
Regulation of motor vehicles
Road safety and traffic management authority
Unified vehicle registration and driving license system
Simplification of permit and clearances
A Road Safety law of international standards
Mr Gadkari explained that the new road safety law will ensure that no one gets a license through manipulation. In India, 30% of the motorists carry bogus licenses. To improve the system, driving tests will now be computerised and not conducted by an officer, to cut down on corruption and ensure full transparency. (
Watch: Government Working On Road Safety Law of International Standards, Says Nitin Gadkar
i)
Many of the state governments are already acknowledging the problem of road safety. Uttar Pradesh, the state with the maximum number of road crash deaths - roughly two people die every hour on its roads, has now initiated a new drive. The state is trying to tap children to spread the message of road safety. (
Read More
:
Uttar Pradesh Government Educates School Children About Road Safety Measures)

While bad road designs, lack of maintenance of roads are one part of the problem, the Road Safety Week also lays emphasis on the need for citizens to be more responsible. During the Road Safety Week launch event, Maharashtra Chief Minister, Devendra Fadnavis also urged citizens not to drink and drive.
The NDTV-Diageo initiative that was launched on Sunday will organize many ground activities across Mumbai, Bangalore, Chennai, Lucknow, Hyderabad, Delhi, Kolkata and Jaipur, through the Road Safety Week. It hopes to engage ordinary citizens and prominent people to spread awareness about road safety. Given that on an average, there is an accident every minute, and a fatality on road once every four minutes, safer roads in India is still a long way off.