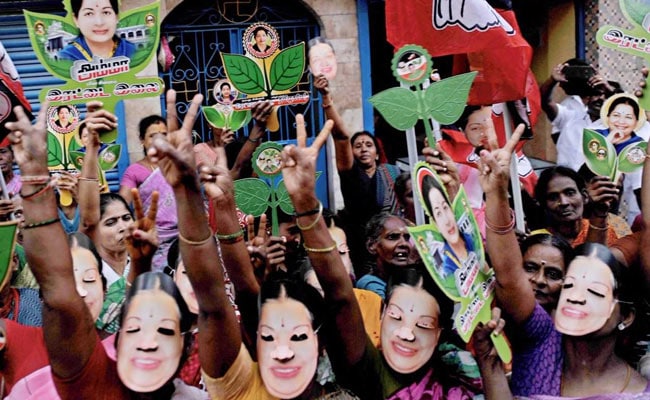 New Delhi:
RK Nagar seat in Tamil Nadu had been left vacant after the death of former Tamil Nadu Chief Minister J Jayalalithaa in December last year. The by-election on this seat was held on Thursday. Just two days before the RK Nagar by-election, a video emerged of Jayalalithaa on a hospital bed, apparently taken by Sasikala when the former chief minister was at the Apollo hospital last year. The video was released by the Dhinakaran camp, allegedly to establish that Jayalalithaa was alive and recovering before she died of a massive cardiac arrest on December 5 last year. The Election Commission ordered TV channels to take the video off air, calling it a violation of the poll code.

Frequently asked questions on RK Nagar bypoll answered here:

Why is RK Nagar bypoll important?
Dr Radhakrishnan Nagar or RK Nagar bypoll is important as former Tamil Nadu Chief Minister Jayalalithaa had contested from that seat twice. For the ruling AIADMK, the seat represents the legacy of Jayalalithaa.

When will RK Nagar Bypoll Result come?
RK Nagar Bypoll Result will be announced on December 24, Sunday.

By what time will RK Nagar Bypoll Result be announced?
RK Nagar Bypoll Result will be announced by Sunday afternoon on December 24.


When were by-election held in RK Nagar?
Elections were held in RK Nagar on December 21, 2017 on Thursday.
What was the turnout of RK Nagar Bypoll Election?
RK Nagar saw a turnout of 77.5 per cent, the highest in years.
Who are the contestants for RK Nagar by-election?
- E Madhusudhanan of the AIADMK
- Marudhu Ganesh of the DMK
- TTV Dhinakaran is running as an independent
Why were RK Nagar by-election cancelled in April?
The RK Nagar election was originally scheduled for April 12 this year but was cancelled after nearly 90 crores were discovered as intended bribes in a raid on an AIADMK minister.