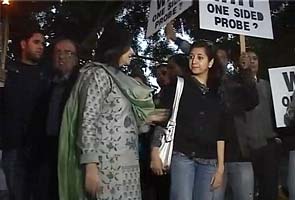 New Delhi:
Family members of two arrested editors of Zee Television on Thursday demanded their immediate release and accused Congress MP Naveen Jindal of "misusing" his political and financial clout in this case.
"Both the journalists should be immediately released.
Things should not have deteriorated to such an extent. They are arrested without reason and this is an injustice done to them," said Roasie Ahluwalia, wife of arrested editor Samir Ahluwalia.
She spoke after she and Niti Chaudhary, wife of the other arrested editor Sudhir Chaudhary, led a candle light march.
Samir's father Sagar Ahluwalia, who is himself a journalist, told PTI that investigations should be carried out against Mr Jindal also.
"He is misusing his political and economic clout. He is putting pressure on the Delhi government. Jindal should answer how JSPL group's net worth increased from Rs 3500 crore to Rs 11000 crore after they got the coal allocations. Media freedom is at stake," he alleged.
On question of an independent inquiry by a competent authority, Raoasie said that journalists should not have been charged under section 384 of the IPC. However, she evaded a question on whether Delhi police is under pressure from Jindal.
Niti Chaudhary said both the journalists have been cooperative with the police during the investigations and there is no reason for them to be in jail.
Both the editors were arrested on November 27 on charges of demanding a bribe of Rs 100 crore to stop the coverage of the 'coalgate' issue involving JSPL.