New Delhi:
Highlights
Kanimozhi is daughter of DMK chief M Karunanidhi
Was acquitted in telecom scam yesterday along with A Raja
Says party will remain with Congress, has "differences with BJP"
A day after she was
declared not guilty
of what was billed as one of the country's greatest scams, M Kanimozhi said that her time in prison has made her a wiser politician. She spent her morning in parliament after seeing off her mother and then it was a bit of media interviews and some quality time with her husband.
"Jail really made me stronger and wiser. I realised how politics works. I read the Mahabharata in jail and that really put things into perspective for me," the 49-year-old member of parliament told NDTV today.
Kanimozhi and A Raja, the former telecom minister and a senior leader of the party headed by her father, were among the
17 who were acquitted yesterday
of corruption and money-laundering when mobile network licences were issued in 2008. A special court in Delhi said the CBI
failed to provide any evidence
of a conspiracy among politicians, bureaucrats and top corporate executives.
Mr Raja wrote to his party chief today, emotionally declaring, "I place the 2G verdict at your feet." Mr Karunanidhi is 94 and Kanimozhi's father; he heads the DMK.
Last month, Prime Minister Narendra Modi visited Mr Karunanidhi in Chennai and asked the ailing politician to use his Delhi residence to rest. The visit was interpreted as the opening for a new alliance between the DMK and PM Modi's party, which has virtually no presence in Tamil Nadu. But Kanimozhi told NDTV today that this should not be seen as a political act. "It was very sweet, very kind of the Prime Minister but we do have differences with the BJP. We are a secular party," she said.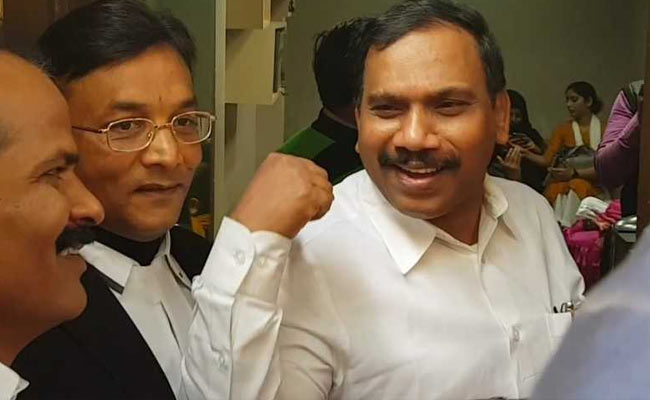 When asked about the Congress and whether the 2G scam took its toll on their relationship, she said, "It wasn't because of the 2G that we split but on the Lanka issue."
"We even fought polls together with them after the 2G issue. I think we will continue our alliance with them in future too," she said.
The telecom scandal, named the 2G scam after the second-generation airwaves involved, played a large role in the perception of Dr Manmohan Singh's government as seeped in corruption. The DMK was a key member of the Congress-led national coalition. They also contested last year's election in Tamil Nadu together, only to be emphatically defeated by J Jayalalithaa and her AIADMK.
The telecom scam alleged that valuable telecom permits were sold at below-market prices to companies that paid kickbacks. The national auditor alleged the conspiracy gypped the country of 1.76 lakh crores. Kanimozhi was arrested in 2011 after the CBI's supplementary chargesheet said that she was a beneficiary of the Rs 200 crore bribe money. "I wasn't even a director of Kalaignar TV, I wasn't even a minister. I don't know how they made this case."
In 2012, the Supreme Court ordered 122 licences held by eight operators to be revoked, declaring the licences illegal and the process "wholly arbitrary, capricious and contrary to public interest".
The government has said that the CBI will appeal against yesterday's acquittals in the Delhi High Court. When asked if she would raise this issue with Ravi Shankar Prasad, the Law Minister and her colleague in the Rajya Sabha, "No, I don't think so. I understand it is political. But I am ready for the fight."