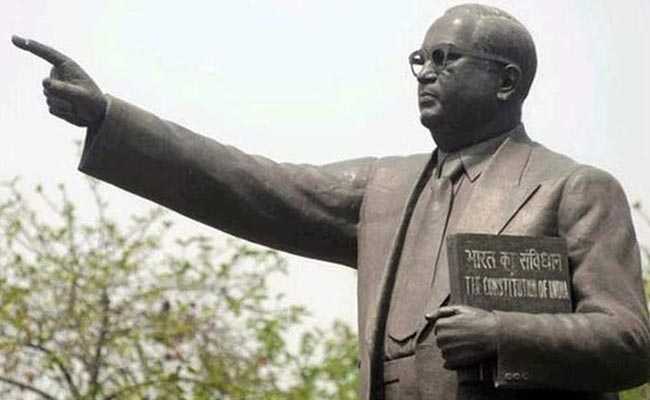 Lucknow:
"Ramji" will be inserted as the middle name of Bhimrao Ambedkar, the man who drafted India's constitution, in Uttar Pradesh. The state government has ordered that all documents and records, old and new, should refer to the icon as Bhimrao Ramji Ambedkar.
The name change was first suggested by UP Governor Ram Naik, who had written to Prime Minister Narendra Modi recently.
"Ramji", which is also used officially in Maharashtra, was the name of BR Ambedkar's father. The governor, who has been campaigning since last year to "correct" the name, reportedly wrote to PM Modi and UP Chief Minister Yogi Adityanath that even Dr Ambedkar used his full name in his signature.
He also suggested that the spelling of the name in Hindi should be amended to reflect its correct pronunciation -- Aambedkar.
The UP government order also references Ram Naik's argument that the name by which Dr Ambedkar signed the pages of the constitution was Bhimrao Ramji Ambedkar.
"I am a Marathi and so was he. Hindi-speaking states have been writing his name incorrectly. Most importantly, his name is written as Bhim and Rao as two words; however, the correct way to write is Bhimrao," Ram Naik said.
The opposition Samajwadi Party in UP has accused the Yogi government of dragging the iconic name into politics just to show people that it is pro-Dalit. "BJP and Yogi government are afraid of the Samajwadi-Mayawati alliance. BJP always comes up with new issues as soon as they realise their failure," said the party's Sunil Sajan.
UP cabinet minister Swami Prasad Maurya, however, said there was no politics in the decision and no ulterior motive should be seen in it.
The legacy of BR Ambedkar, popularly known as "Babasaheb", is often caught in the tug-of-war between various political parties coveting the electoral support of India's most underprivileged castes.