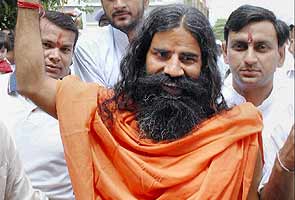 Gwalior:
Yoga guru Baba Ramdev said he would embark on "a 1,00,000 km long yatra" tomorrow from Jhansi in Uttar Pradesh to make people aware about the issues of corruption and black money.
Ramdev paid tribute at the shrine of Rani Laxmi Bai on his arrival in Gwalior on Monday. Then he left for Jhansi. The yoga guru told reporters that there were "two kinds of people in this country - honest people and traitors".
He claimed that all honest people were with him in his fight against corruption and black money.
Ramdev's aim in the yatra was to awaken people on the issue of "Rs 4,00,000 crore black money stashed in foreign countries", he said. The yatra will end in Prayag, Uttar Pradesh.
When asked whether he feared that the centre would deal with the yatra the same way it dealt with his agitation in Delhi, Ramdev said the government had learnt its lessons, and would not repeat the Delhi act.
The fight against corruption was like a "religious war" to him, Ramdev said.
Ramdev had earlier gone on a fast onto-death campaign against corruption in the Ramlila Maidan in June. The yoga icon was evicted from Delhi after a lathi-charge at midnight by the Delhi police. Baba Ramdev, initially escaped the police dressed as a woman. He was then found and escorted by the police to Palam airport.
The government justified the late night eviction of the Baba saying he had violated permission granted for a yoga gathering.
Senior minister Kapil Sibal said Baba Ramdev had given permission for a yoga camp for 5000 people but when over 50,000 people descended on the capital's Ramlila ground, the government "couldn't allow law and order to be disrupted."
Ramdev lashed out at the government calling Kapil Sibal "the most scheming man ever."
(With PTI inputs)