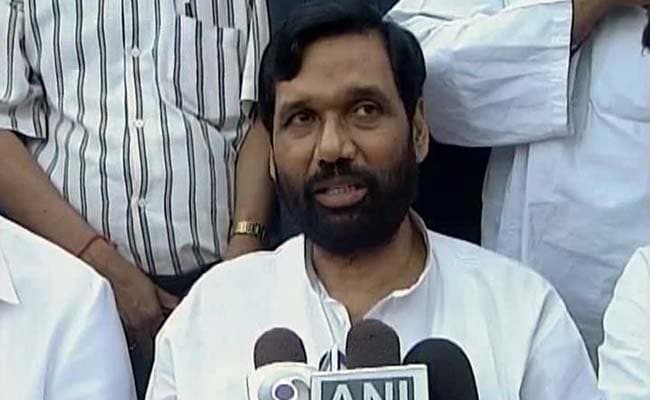 Patna:
Union minister Ramvilas Paswan has described the JD(U) meeting, which elected Nitish Kumar as the Legislature Party leader, as "unconstitutional" and sought President's Rule or early election in Bihar in view of "instability".

Bihar Chief Minister Jitan Ram Manjhi had got himself empowered to recommend the dissolution of the assembly on Saturday after his party's attempt to broker peace failed.

His move came in response to the JD(U) bid to replace him with Nitish Kumar. The party elected Nitish Kumar as its head and its chief Sharad Yadav wrote to Governor KN Tripathi, saying Mr Kumar should be inducted as the next chief minister.


"The JD(U) legislature party meeting called by Sharad Yadav today which elected Nitish Kumar as the Legislature party leader is unconstitutional," Mr Paswan told news agency Press Trust of India.
"The power to call a Legislature Party meet rests with the Leader of the House, that is the chief minister," he added, echoing Mr Manjhi, who had forwarded the same argument on Thursday.
Pointing at the intense fight within the JD(U) which had spilled onto the streets, Mr Paswan -- the president of NDA ally Lok Janashakti Party -- said, "The best thing in this situation can be either President's Rule or going in for an early Assembly poll."
The term of the present Assembly in the state is to end in November, but the crisis can push the state towards early polls. The decision rests with the Governor, who is expected to consult the Union government led by the BJP.
The Union Food and Civil Supplies minister also came down heavily on Mr Kumar and RJD chief Lalu Prasad, dubbing them as "anti-Dalit".
"Earlier, Nitish Kumar had omitted the Paswan caste from Mahadalit category and now conspired to throw a Dalit, Jitan Ram Manjhi, from the Chief Minister's chair," he said. "The incident (removal of Manjhi) is an eye-opener for Dalits and Mahadalits."