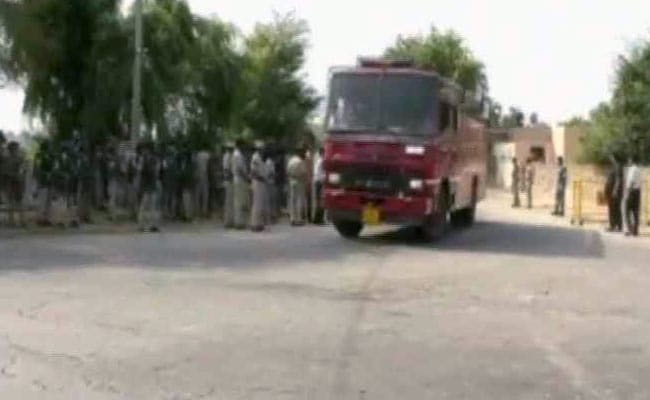 Chandigarh:
As Gurmeet
Ram Rahim Singh
was being taken to a court on
Panchkula
on Friday for the verdict in
rape case
in which he was accused, a cavalcade of about 150 cars had accompanied him. Among them was a fire engine. The Haryana police today said there is a chance that two compartments in it contained petrol. Forensic tests are on. From other cars that were part of the Ram Rahim's motorcade, the police had seized rifles, pistols and narcotics.
"There were a couple of compartments inside which had containers - one about 2.5 feet and the other 4 to 5 feet. The 4 to 5 feet one was empty but smelled of petrol... If it was petrol then the person who owned it will be arrested," said Haryana police chief BS Sandhu. The officer said the fire officers have also been asked to ascertain if it was a regular fire engine or it had been customised.
The Special Investigation Team which will probe Friday's violence in Panchkula, which left
38 people dead
and around 250 injured, will also investigate who owns more than 25 luxury vehicles that were part of the cavalcade. The self-styled spiritual leader enjoyed Z-plus security accorded to him by the government of Haryana.
The huge cavalcade had started from the Sirsa, the headquarters of Ram Rahim's Dera Sacha Sauda, around noon, as an estimated 1.5 lakh followers of Ram Rahim waited for the verdict. The people had poured into the city over four days for the verdict.
The state government had admitted to lapses in their preparations to handle the aftermath of the verdict. Intelligence sources said both Haryana and Punjab governments had been warned that the situation could go out of hand, on basis of reports that Dera supporters were arming themselves.
Security agencies believe people inside the Ram Rahim's headquarters in Sirsa have a significant number of weapons, including firearms. The people vacated the premises only this evening.
Long staves, rods and material to make petrol bombs have been found from the premises of other centres of Dera Saccha Sauda across Punjab and Haryana. Around 130 such campuses of the sect - referred to as Naam Charcha Ghars - have been sanitized by the police in two states. Some of these centres have also been sealed.
The Haryana government has drawn stringent censure from the Punjab and Haryana High Court for failing to take proper precautionary measures. "You let Panchkula burn for your political motives," the court had said yesterday.