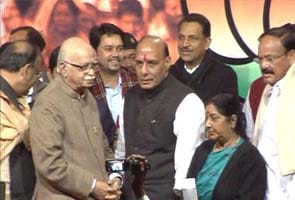 New Delhi:
Rajnath Singh will be the new president of the BJP. A party parliamentary board meeting today thanked outgoing president Nitin Gadkari for his "dynamic" leadership for the last three years and unanimously endorsed Mr Singh as his successor.
Mr Singh filed his nomination papers and a relieved BJP will ensure that a party tradition of the president being elected unopposed continues.
At today's meeting, the party's senior-most leader LK Advani moved the resolution thanking Mr Gadkari. Mr Advani's was one of the loudest anti-Gadkari voices in the BJP as he argued that installing him in office once again would dent the BJP's credibility perilously close to Lok Sabha elections in 2014. Mr Advani was reportedly not in favour of Mr Singh being made the next BJP president, but eventually said yes to his candidacy, preferring him or "any candidate" to Mr Gadkari, sources said.
The first visit Rajnath Singh, 62, made this morning was to Mr Advani's home, to "seeking his blessings." He then arrived at the BJP headquarters with Mr Gadkari, as the main Opposition party attempted a show of unity after its internal wranglings played out in public all of Tuesday, ending in Mr Gadkari resigning late last night and confirming that he would not seek an unprecedented second consecutive term as party president after all.
This will be Mr Singh's second term as BJP chief. He had also preceded Mr Gadkari, who was handpicked by the BJP's ideological mentor, the Rashtriya Swayamsevak Sangh for the party's top job in 2009. Sources said the RSS, which was pushing for Mr Gadkari's second term, chose Mr Singh when it was clear that there was too much opposition within the party against him. Officially, the RSS said picking a president was an internal matter of the BJP. Rajnath Singh too is a veteran RSS man and is seen as close to the Sangh ideology.
An income tax investigation and raids into Mr Gadkari's business, followed by a threat by senior leader Yashwant Sinha that he would force a contest for BJP president, brought about the swift change in plans yesterday. Top leaders of the BJP met with the RSS last evening and decided on Mr Singh as a consensus candidate.
(Read)
Mr Advani had earlier reportedly suggested that Sushma Swaraj be made the next president of the party, but it was decided that frontline leaders like her, Mr Jaitley and Gujarat Chief Minister Narendra Modi should not be pulled out of their current roles, sources said.
Mr Modi tweeted this morning, "I called up Shri Rajnath Singh ji & congratulated him. He brings with him vast experience of both organisation & administration," and "Rajnath Singh ji served as Agriculture Minister in Atal ji's Govt. He has always been associated with the farmers. BJP will gain from this."
(Read)
Mr Modi is among those in the party who have not shared the best of relations with Mr Gadkari.
Mr Gadkari said in a statement last night that while he had done no wrong, "I do not wish that this should in any way adversely affect the interest of the BJP. I have therefore decided not to seek a second term as the president of the BJP." He has dismissed the IT investigation centered around the Purti Group, which he founded in 2000, as an orchestration by the Congress-led UPA government to malign him.
(Read full statement)