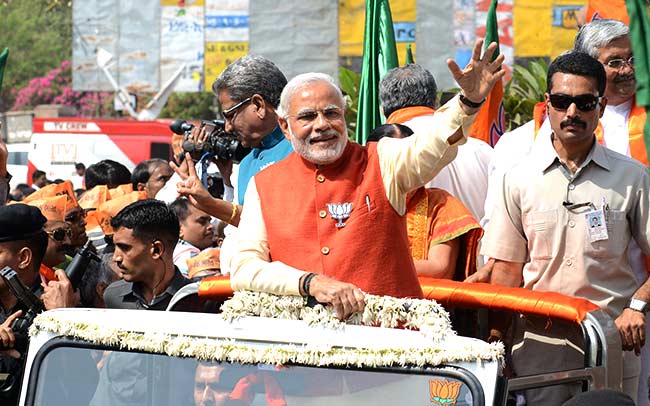 Highlights
Pune cops had said letter found on suspected Maoist revealed plot
Home Ministry called meeting after getting report from Maharashtra Police
National Security Advisor, intelligence officers, others attend meeting
New Delhi:
Union home minister Rajnath Singh held meeting with senior officials to review the security for Prime Minister Narendra Modi in the wake of police reports on the threat to his life. A
plot to assassinate the Prime Minister
in a "Rajiv Gandhi-type incident" during one of his roadshows came to light after a letter was seized from the home of a suspected Maoist, the police had said.
The home ministry has received a report on the matter from the Maharashtra police and the meeting today was attended by the National Security Advisor Ajit Doval, Director of the Intelligence Bureau Rajiv Jain and the home secretary among others, sources said.
Announcing the meeting in a series of tweets, the home ministry said, "The Home Minister has directed that all necessary measures be taken in consultation with other agencies to suitably strengthen the security arrangements for the Prime Minister."
The police said threats against the Prime Minister were found in a laptop belonging to Rona Wilson, one of the five people arrested recently over January's caste-related violence in Maharashtra's Bhima-Koregaon. The letter, addressed to one "Comrade Prakash" was signed by the initial "R" - which the police take to mean Rona Wilson.
The letter talked about "senior comrades" proposing "concrete steps to end the Modi-era.". A part of it read out in court by public prosecutor Ujjwala Pawar said, "We are thinking along the lines of another Rajiv Gandhi-type incident. It sounds suicidal and there is a chance that we might fail but party must deliberate on our proposal".
The others arrested along with her includes Dalit activist Sudhir Dhawale, lawyer Surendra Gadling and activists Mahesh Raut and Shoma Sen. The police have described them as the "top brass of urban Maoists".
Sections of opposition, however, have called the threat letter a ploy.
Veteran politician Sharad Pawar
, the chief of Nationalist Congress Party, got slammed by Maharashtra Chief Minister Devendra Fadnavis for saying the BJP was "playing the threat letter card" after realizing they are losing popular support "to gain sympathy".
Congress leader Sanjay Nirupam said he believed that the news could be "planted". He told ANI news agency: "I am not saying this is completely untrue, but it has been Prime Minister Modi's old tactic since he was Chief Minister of Gujarat. Whenever his popularity declines, news of an assassination plot is planted. So, it should be probed how much truth is in it this time."