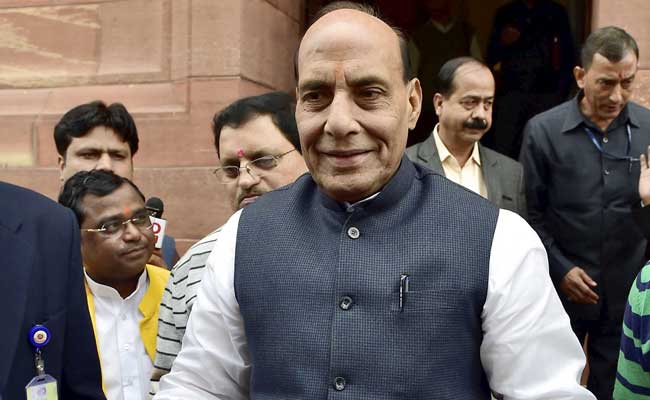 New Delhi:
Home Minister Rajnath Singh today took a dig at Congress for disrupting the proceedings of Parliament saying anger against the judiciary should not lead to taking the House "hostage."
Mr Singh said the opposition has very significant role in a democracy and government wants cooperation from opposition parties and not confrontation.
"We have been trying to maintain cordial relations with the opposition. But unfortunately, what we have seen is that Parliament has been taken hostage because of the anger against the judiciary. This should not have happened," he said addressing the Jagran Forum of Dainik Jagran in New Delhi.
Appealing to all political parties to join hands to make a strong and prosperous India, the Home Minister said not only the political parties but every citizen has the responsibility to work for the development of the country.
Talking about the inclusive politics in India, the Home Minister said India has been propagating the politics of inclusiveness since ages and the creators of the Constitution had made it sure that inclusiveness is reflected everywhere in the Constitution.
"Our Constitution has taken care of the concerns of the poor, backward classes. The Constitution ensured that everyone, irrespective of caste, creed and religion, gets equal representation and opportunity in all spheres of life and can march forward towards development. This is nothing but inclusiveness," he said.
Mr Singh said developed countries like the United States and the United Kingdom have vibrant democracies since long but they have only two-party democracy.
"But in India, we have multi-party democracy. Here a person has various options if he wants to plunge into politics. This is called inclusiveness," he said.
The Home Minister said till a few years ago, many democracies did not allow women the right to vote in elections but in India women, the poor, backwards were given rights to vote when the country attained independence.
Mr Singh said all 72 sects of Muslims are available in India while the country hosts one of the oldest churches, about 2,000 years old.
"Persecuted communities like Parsi felt secured in India and have permanently settled here. All these have been possible because of the inclusiveness of India and Indian people. Inclusiveness is the inherent nature of every Indian," he said.