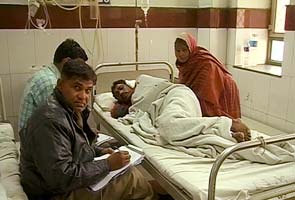 Jaipur:
Patients at government hospitals across Rajasthan continued to suffer on the sixth day of doctors' strike on Monday, and officials said the toll due to the strike has gone up to 50 across the state.
Over 20,000 contract employees of the National Rural Health Mission (NRHM) struck a deal with the state government and agreed to end their strike on Tuesday.
The decision was taken after several rounds of talks between representatives of the employees' associations and the government on Monday, officials said.
The NRHM contract employees were demanding permanent posts which, they claimed, were promised to them by the chief minister last year.
"The healthcare services in the rural areas will be restored after the end of the NHRM employees' strike. The government has promised to look into their demands," a medical and health department official told IANS.
However, 6,000 in-service government doctors continued their strike.
Chief Minister Ashok Gehlot on Monday warned the striking doctors of public anger. "We will be forced to take strict action against doctors for carrying out such strikes. Such strikes create anger amongst people and, therefore, doctors should resume work as soon as possible," said Gehlot.
All-Rajasthan In-Service Doctors Association announced a delegation of representatives will negotiate with the state government over their demands.
The members of the association have struck work since Wednesday, demanding a hike in salaries and parity with central government employees.
Gehlot on Saturday directed the health department to authorise private hospitals to treat patients at approved rates.
The state government also sought help from doctors in the army, Border Security Force and the railways.
Over 400 doctors have been arrested over the past six days for violating the Rajasthan Essential Services Maintenance Act clamped by the government.
Hospitals in Jaipur, including Sawai Man Singh Hospital, wore a deserted look on Monday. Patients alleged that they were being discharged without treatment.