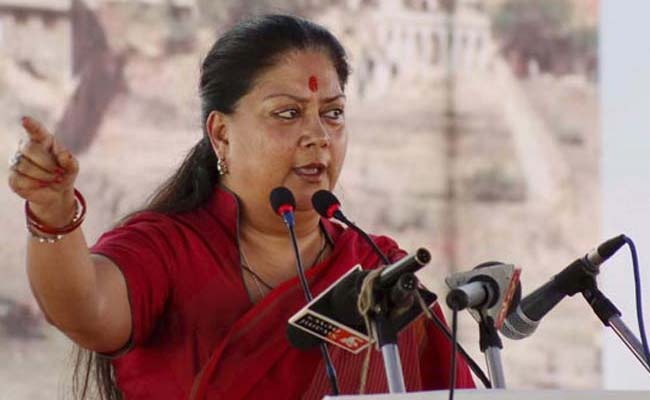 Jaipur, India:
Ashok Choudhary, head of the BJP's Kota district OBC wing, has written to BJP president Amit Shah apprising him of "unhappiness spreading among BJP members" against the working style of Rajasthan Chief Minister Vasundhara Raje.
Mr Choudhary has sought replacement of Ms Raje and state party chief Ashok Parnami, ahead of the state Assembly polls scheduled later this year.
Speaking to IANS, Mr Choudhary said "There is a wave of resentment among BJP workers. I have put the voice of Rajasthan BJP workers in the letter."
"Each and every word in the letter speaks of the helplessness of the party workers."
Asked about the reasons for penning the letter, Mr Choudhary said: "I was feeling the trauma of workers and hence I was forced from within to write such a letter." He declined to add anything more, saying he is "really stressed out".
The letter comes days after the BJP lost two Lok Sabha seats and one Assembly seat in bypolls in Rajasthan, the results of which were declared on February 1.
Mr Choudhary wrote to Mr Shah on the party letterhead the next day, saying, "The people of the state are not happy with Chief Minister Vasundhra Raje's style of functioning. The party workers are losing confidence due to her working style."
The letter describes Mr Parnami as a "slave of Raje", who is causing "damage" to the organisation.
He added that ground-level party workers had predicted the fall of the saffron party during the bypolls.
"Raje is leading the party on to a path which heads towards defeat. Several sections of the society, including farmers, are angry with the Raje government," claimed his letter.
"The state leadership should immediately be changed to infuse energy into the organisation ahead of the Assembly polls," he added.
The BJP's political record in Kota stands quite strong and the party has been a constant winner here.
It has lost only one of the 17 seats in the district in the 2013 state Assembly polls.