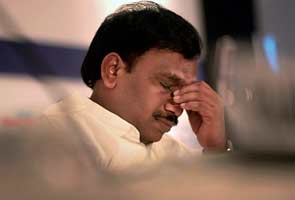 New Delhi:
Having spent a year behind bars for his alleged involvement in the 2G scam, former communications minister A Raja seems to have adapted to life in Tihar Jail, officials said on Thursday.
"After a few weeks of initial sullenness and shock, Raja seems to have adapted to jail life. He was not talkative or interacting with other inmates, but now he seems to have become friendly with others in his ward," a jail official told IANS on condition of anonymity.
Raja was arrested February 2 last year, taken into Central Bureau of Investigation (CBI) custody and then brought to Tihar Jail on February 17.
Jail sources said Raja has never thrown any tantrum at any point of time.
"Raja is lodged in a 15 by 10 feet cell, ventilated with a grated iron aperture near the ceiling at jail number one, ward number six. He spends most of the time reading books, newspapers and prepares notes on his court hearings. He sticks to the routine," the official said.
Apart from watching television, Raja also plays badminton with other inmates in the evening.
"He usually takes a one-hour walk from 5 a.m. to 6 a.m. inside the ward premises. Initially, he used to talk only to jail guards from the Tamil Nadu battalion, but now he speaks with everyone in broken Hindi," the jail official said.
Raja is also much more disciplined as compared to other high-profile prisoners.
"The only special demand he made was for some Tamil newspapers, which have been provided to him," the official added.
Sources added that his ward is changed every two days for security purposes, as he is a former minister.
Raja, who was initially getting home-cooked food, is now eating meals prepared in the jail.
"He is eating jail food and two times a week, he gets home-made south Indian dishes and shares it with other inmates," the official told IANS.
Raja seems hooked to snacks from the Tihar canteen, which he shares with fellow inmates as well.
"He usually gets omelette, biscuits and namkeens from the canteen," the official said.
Raja became the communications minister in 2007. He is accused of cheating, criminal conspiracy and corruption in the selling of scarce second generation (2G) telecom airwaves to favoured companies at a fraction of their actual cost, causing huge losses to the exchequer.