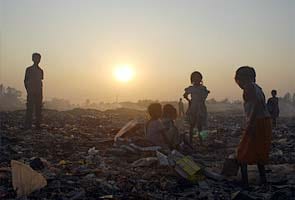 New Delhi:
In attempts to defend the claim that poverty has declined by 22 per cent since the government came to power, Congress spokespersons are barreling new controversies.
After Raj Babbar said a hearty meal in Mumbai can be bought for Rs 12, another Congress leader, Rasheed Masood, has said Rs 5 in Delhi is sufficient for the same. "You can eat a meal in Delhi in Rs 5, I don't know about Mumbai. You can get a meal for Rs 5 near Jama Masjid," Mr Masood said.
The Opposition BJP has co-opted Mr Babbar's comment as evidence that the government's understanding of poverty is far removed from the realities of inflation.
This week, the Planning Commission said that anyone who spends more than Rs 32 in urban areas and Rs 27 in rural areas is above the poverty line. It also said that the percentage of Indians living below the poverty line has fallen to 22 per cent from 2005 to 2012. The figures have been dismissed by critics as deeply flawed. The Opposition says the government has engineered faulty calculations to serve it in the national elections, due by May, when the Congress will seek a third consecutive term.
"Even today in Mumbai city, I can have a full meal at Rs 12. No no, not vada paav (snack). So much of rice, daal saambhar and with that some vegetables are also mixed," Mr Babbar said yesterday.
Appearing on NDTV's prime-time show,
Left, Right and Centre
, Sanjay Jha of the Congress said, "I haven't heard Raj Babbar's comment in this context and so I cannot really answer that."
The BJP's Lalita K Mangalam retaliated sharply. "If Mr Sanjay Jha says he doesn't know what the spokesperson of the Congress has said well then that itself shows they don't know what they are talking about. This whole thing about poverty reduction in India over the last seven years, everybody is laughing at it."