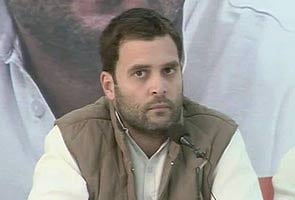 Jammu:
All India Congress Committee (AICC) General Secretary Rahul Gandhi's visit to Doda and Kishtwar areas was cancelled on Saturday following inclement weather conditions in the belt.
"Rahul Gandhi's visit to Doda and Kishtwar has been cancelled following incessant rains in the area," Senior Superintendent of Police (SSP) Doda, Arif Reshu, told PTI.
Mr Gandhi, along with Union Health Minister Ghulam Nabi Azad was scheduled to visit the Bhaderwah and Kishtwar on Saturday to take stock of the situation in the area, that had been hit by minor tremors since May 1.
"It has been raining hard in Bhaderwah and adjoining areas since last night," Mr Reshu added.
Mr Gandhi, who landed at Udahampur airfield earlier in the morning, was supposed to fly to twin districts of Doda and Kishtwar before heading to Budgam in Kashmir to announce a
package under Centre sponsored Udaan scheme.
However, he was forced to directly head for Srinagar from Udhampur due to bad weather.
"He landed at Udhampur and from there he has flown to the Valley," IG Jammu, Rajesh Kumar, had told PTI.