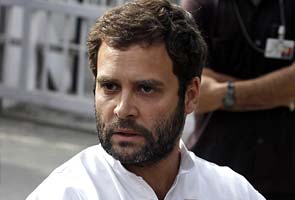 New Delhi:
During and after 26/11,
Rahul Gandhi
took an active role in the efforts of the government to contain the fallout of one of India's worst-ever terror attacks, said Milind Deora, junior minister for Communication and Information Technology, to NDTV today.
Mr Deora, who is counted among Mr Gandhi's "youth brigade", said that many of Mr Gandhi was a driving force for the creation of the National Investigation Agency or NIA, set up after the Mumbai attacks to coordinate intelligence alerts and counter terror strikes.
"This was the first time that urban India woke up to demanding more accountability from the political class," Mr Deora said. " I saw someone like him (Mr Gandhi) working behind-the- scenes to give political support to those in power to say go out and do the right thing," Mr Deora said.
166 people were killed during the 72-hour siege of Mumbai by 10 Pakistani terrorists in 2008.
"I saw him personally meeting people in the Home Ministry, top brass , even talking to me who is an MP in the local area, talking to then Chief Minister, trying to get things moving, trying to give in his way political support to those who are in power," Mr Deora recalled.
Responding to allegations that Mr Gandhi has been MIA during recent defining moments in India, like the massive street protests that followed the Delhi gang-rape in December, the minister said the Congress leader's critics misread his style of leadership. "I think there is a range of style of functioning for all politicians. Some prefer to do it silently, some prefer to thump their chest and say 'I am doing this, I am great and deserve much more credit than it is due.'"
Get Breaking news, live coverage, and Latest News from India and around the world on NDTV.com. Catch all the Live TV action on NDTV 24x7 and NDTV India. Like us on Facebook or follow us on Twitter and Instagram for latest news and live news updates.