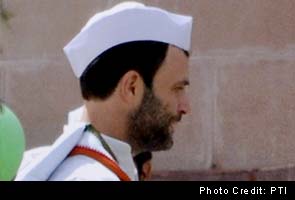 Jaipur:
Congress vice-president Rahul Gandhi met party workers and office bearers in Jaipur on Thursday while continuing his task of collecting feedback over the party's prospects in the upcoming assembly and Lok Sabha elections, party sources said.
Mr Gandhi arrived in Rajasthan's Bikaner district on Wednesday to hold "feedback meetings" with the party's workers. He left for Jaipur in the evening.
Assembly polls are scheduled in Congress-ruled Rajasthan at the year-end.
"He has been meeting party workers at Birla Auditorium since Thursday morning. At least 3,000-3,500 party workers are participating in the special sessions for discussions over organisational situation of the party in the state," a senior Congress leader told IANS.
Sources said that Rahul Gandhi met party's block-level workers and senior leaders separately.
"He is stressing upon taking advantage of the various public welfare schemes launched by the UPA government and the Congress government in the state during the assembly elections. He wants these schemes to reach everyone, especially in remote rural areas," said the leader.
Sources also said that Mr Gandhi appeared troubled by the lack of co-ordination between party workers and senior leaders or ministers.
"Rahul is stressing upon the fact that the workers who are backbone of the party on the grassroot-level should not be ignored by senior leaders," said a source.
Those who were meeting Mr Gandhi in Jaipur include leaders from 24 district units of the party across the state, sources added.
The party vice-president is separately meeting members of district Congress committees and block presidents, panchayat samiti and zilla parishad members and party legislators, the sources said.
Block level workers, while raising apprehensions on dynastic politics, raised questions on the ticket distribution to the youths in the forthcoming assembly and Lok Sabha elections and said that the ticket should not be given only to the sons and daughters of senior leaders on the pretext of their youth.
According to sources, party workers in Bikaner complained to Mr Gandhi about senior leaders and their way of functioning.
"The workers complained against former minister and head of finance commission B.D. Kalla, who acted against the party's official candidates during the last assembly elections. Rahul is listening more and speaking less in the meetings. He wants the party to fight unitedly during the coming elections," said a party source.