New Delhi:
At the American Embassy in New Delhi, each morning there are hordes of people gathered to go in for an interview as busy diplomats rush in to their desks. But today was different. To commemorate the third edition of International Yoga Day, the staff - along with their little ones - headed to the lush green lawns of the embassy with their mats.
Though early morning showers in the capital played a damper, the American embassy grounds transformed into one sprawling exercise area for the event.
'I have been doing yoga for the last 15 years and having worked in over 4 continents, I can tell you that Yoga brings people together. Yoga has always been popular in the western world too but for those who didn't know it serves as the perfect stepping stone', says Bradley, a staff member.
In Delhi, the embassy conducts yoga sessions at least thrice a week along with Zumba, Pilates and other fitness activities. Embassy staff told NDTV that Yoga forms a part of the cultural experience that they relish during their time here. Some say, it is just as popular across continents that they have worked in.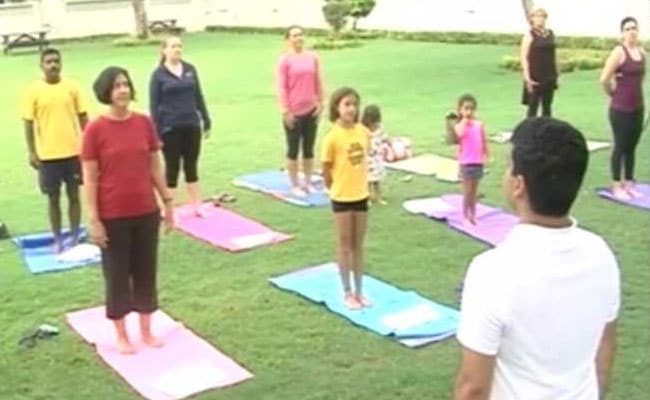 Jennifer has a high stress job at the embassy but has been able to tame the levels since she began the Yoga classes. 'Isn't it amazing that everyone around the world and here are embracing this? Yoga is born in India but belongs everywhere. It has no borders and stretches the boundaries of body, mind and soul', she says.
Experts highlight the importance of Yoga in the Indian lifestyle. Gaurav, a Yoga instructor says, 'with the increasing number of Diabetes and hypertension cases in India, it is vital to do a few
asanas
of Yoga every day. One can even do some
asanas
at their desk while at work.'
Embassy officials say they do simple Yoga movements like the head turns, neck rotations, arms stretch while at work. 'You don't have to take out time from your schedule, simply integrate yoga to the routine and it is the perfect rejuvenation from a busy day', added Bradley.