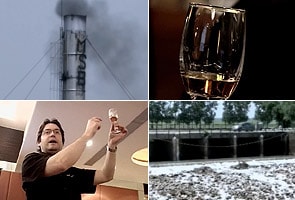 Chandigarh:
It's a study tour that many people would love to be part of. Nine Punjab MLAs are going to Scotland to learn how to prevent pollution caused by distilleries manufacturing - what is perhaps Punjab's favourite after hours drink.
The trip comes days after a state government report that a 30-km area around four major distilleries in the state had become highly polluted and contained huge amounts of alcohol.
Interestingly, the state pollution control board had earlier taken ground water samples from near the four distilleries and the samples were found to be within normal parameters.
"I don't know who has given the idea to the Speaker to do this. He is also on the trip but the pollution board, on the other hand, says it's all rubbish - there is no pollution around the distilleries in Punjab. It's you and me, the tax payers, who have to pay for it. But it's a nice holiday for them," said former Chief Minister Punjab Captain Amrinder Singh.
Captain Amrinder may be upset since he is not part of the trip, but for the Badal government this is hugely important trip.
"Pollution is also a big problem, it is a grave problem. We are trying our best to have good environment and ecological balance; everyone should work in this direction - government as well as social. That is why the group has undertaken this study tour," said Manoranjan Kalia, Punjab Industries Minister.
At a time when major part of Punjab is battling floods, some of the elected representatives are in Scotland. Many feel timing couldn't have been worse.
It can be argued that this trip was essential, but then why weren't experts sent instead of MLAs? Unless it's mixing business with pleasure, the perfect chance to enjoy the Scottish summer at the taxpayers' expense.