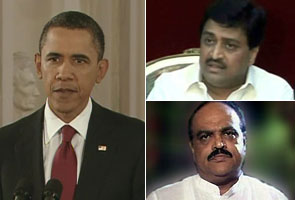 Mumbai:
There's been a major protocol glitch on the eve of Barack Obama's visit to Mumbai that has top Maharashtra politicians, including the Chief Minister and the Deputy Chief Minister taking a stand against attending the functions arranged for the US President.
The reason for the outrage, a questionnaire sent to the political and bureaucratic big wigs by the US Consulate demanding identity details including date of birth and even blood type.
But now, the US Consulate in Mumbai on Friday apologised for having asked invitees to submit personal details like PAN numbers after it drew angry reaction from senior Maharashtra ministers and officials and blamed "clerical error" for the queries.
"I have visited Chief Minister Ashok Chavan and Deputy Chief Minister Chhagan Bhujbal personally to apologise. It was a clerical error," US Consul General Paul Folmsbee said.
According to reports, the Chief Minister and his Deputy are upset that the US Consulate has demanded personal details.
According to Deputy Chief Minister Chhagan Bhujbal, the US Consulate has apologised but a decision is yet to be taken on attending the events where Obama will be present.
"I did not respond to the invitation as I did not think this is the way to treat top government ministers, bureaucrats. If they are inviting us don't they know who we are? Consulate staff met me yesterday to give an explanation and apologised. I will decide whether to attend or not after discussing with the CM," said Bhujbal.
Chief Minister Ashok Chavan, who is in his constituency at present, was non-committal on the issue. Speaking to NDTV, he said he has not seen the invitation to the Obama event yet. Chavan further added that there is usually a protocol to follow in these matters.
Maharashtra Home Secretary Chandra Iyengar and many top policemen will not be attending the event, though they say they will be too busy with security.
Leaders are also reportedly upset that the 26/11 event is being held at the Taj, instead of a more public and inclusive venue.
Officials say they don't even know the list of invitees from the families of 26/11 victims and the government has not been consulted on whom to invite.