Highlights
Paresh Mesty found dead two days after communal tension in Honnavar
Police insist the autopsy contradicts torture allegation
One man arrested for spreading rumours on alleged torture
Bengaluru:
A mysterious death is at the centre of an escalating political row in Karnataka, where elections will be held next year. The BJP took out a protest march today in Bengaluru after the police said a man found dead two days after communal tension in Honnavar town was not tortured as claimed in social media posts.
The body of Paresh Mesta, 21, was found in a lake on Friday night, two days after he went missing during clashes in the town in Uttara Kannada district around 400 km from Bengaluru. BJP lawmaker Shobha Karandlaje tweeted that he had been castrated, his head was cut open and boiling oil was poured on his face before he was thrown into the lake.
SP under #SiddaramaiahRule has declared this as 'Samaanya Saavu'
Hindu boy 21 yr old Paresh Mesta goes missing.when he was found, he was mutilated,castrated.burnt by boiling oil poured over his head & his head split dastardly with a weapon. pic.twitter.com/tmxkK6r2GS

— Shobha Karandlaje (@ShobhaBJP) December 10, 2017
But the police insist the autopsy contradicts the torture allegation. Doctors who performed the autopsy, say the police, found no evidence of assault or any mutilation, including castration, or any injury due to chemicals. The man's face was discoloured not because of burns but because of decay, officers said.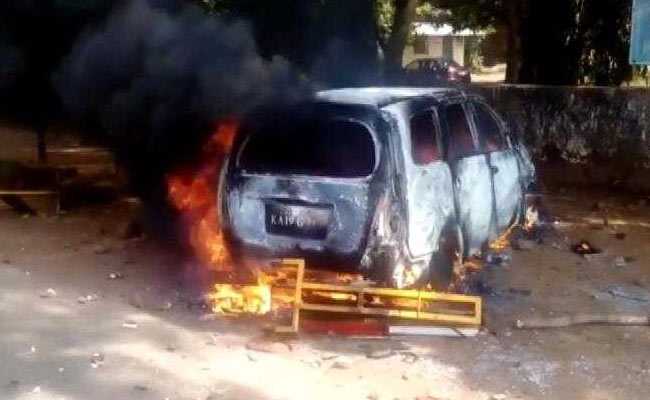 The police have arrested one Timmappahvar Nayak on charges of spreading rumours on the alleged torture on WhatsApp. Mr Nayak, 43, is a Physical Education teacher.
Protestors torched the car of a senior police officer on Monday afternoon. "Proper action will be initiated as per law against the people who have abetted the communal incidences at Honnavara including assault on public servants today at Kumta," said officer Hemant Nimbalkar.
A large contingent of policemen is posted in Uttara Kannada to prevent any flare-up.
The BJP is demanding a probe into the killing by the National Investigation Agency, the country's top anti-terror body.
In assembly elections due early next year in Karnataka,the BJP is hoping to wrest power from the Congress government led by Siddaramaiah.