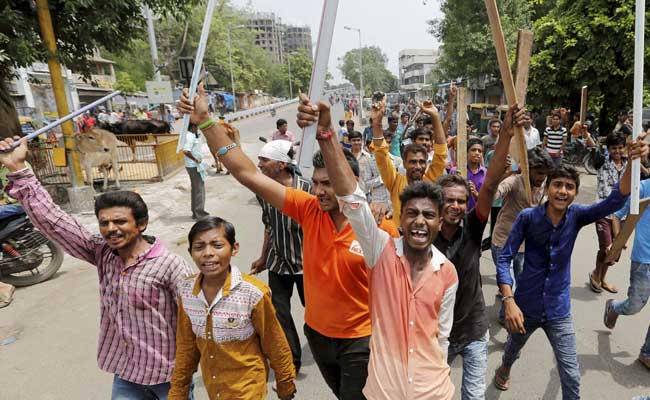 New Delhi:
It was a warning that went viral: scenes of four men being stripped, tied to a car and beaten by a Hindu group that proclaims to protect cows because they are regarded as sacred. The video, uploaded by the attackers in western India, has opened a wider debate over caste conflict and rising right-wing Hindu rhetoric.
In India, the cow is considered holy, and many devout Hindus devote themselves to protecting cows from slaughter and abuse -- sometimes with violent results.
On Tuesday, the lower-caste group fought back. In a symbolic gesture, they left a number of carcasses of cows on the ground outside a government building during a massive wave of protests during which they also torched buses and threw stones at police. One protester died after drinking a poisonous floor cleaning liquid to protest the government's inaction. Four others were sickened.
Cow vigilante groups have become increasingly active in many parts of India after the Hindu nationalist party of Prime Minister Narendra Modi came to power two years ago. They wield field hockey sticks, machetes and whips, and patrol highways for trucks transporting cows or plug into a network of village informers who feed them rumors about cow slaughter or beef consumption. Modi's party has control in Gujarat state, where the latest incident occurred.
The Dalits, once known as the "untouchables" in India's rigid centuries-old caste system, said the young men in the Gujarat video had not killed a cow, but that the animal died of other causes and was being taken for skinning, a traditional occupation of the caste group.
On Wednesday, opposition party members in Parliament shouted slogans against Modi's government.
"The recent shocking incident in Gujarat where four Dalit youths were savagely beaten and humiliated publicly is just one example of the social terror this government condones," said Sonia Gandhi, the leader of the opposition Congress party.
Home Minister Rajnath Singh condemned the incident in Parliament but added that atrocities against Dalits have occurred in India under previous governments, as well.
Responding to the protests, the chief minister of Gujarat has announced a high-level probe into the incident.
Last month, another video was released by a cow-protection group in the northern state Haryana, which showed two Muslim men being forced to eat cow dung and drink cow urine on suspicion that they were beef transporters.
Three days later, the police in Haryana even launched a special 24-hour help line for people to report incidents of cow smuggling or slaughter.
Last year, there was an outpouring of national anger when a Hindu mob dragged a 50-year old Muslim man out of his home and killed him on the allegation of eating beef.
© 2016 The Washington Post
(Except for the headline, this story has not been edited by NDTV staff and is published from a syndicated feed.)