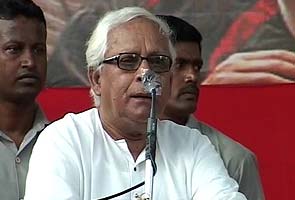 Howrah:
Accusing the government of following pro-US economic policies, CPI(M) leader Buddhadeb Bhattacharjee today said Prime Minister Manmohan Singh will be unable to retain power by following the policy of appeasing the rich.
"Manmohan Singh is aware that his government is not doing well. He is trying but will not succeed with the kind of policies being pursued by his government. One of his friends, Barack Obama, has been re-elected. But he (Singh) will not be able to repeat the feat because the policy of appeasing the rich will not work in our country," Mr Bhattacherjee said.
The former state chief minister was addressing the state conference of the party's labour arm CITU in Howrah.
"This policy whereby employers will get the maximum profits while workers will be working for paltry wages cannot go on," he said.
"Our fight against Delhi (UPA government) will continue.
Everywhere in this country poverty, unemployment and hunger are on the rise," Mr Bhattacharjee said. He blamed the Centre's economic policies for the economic ills.
"The number of the unemployment is the highest during the Manomohan Singh regime. There are attacks on the working class," he said and supported the proposed two-day country- wide general strike on February 20-21 next year called by Central trade unions.
He said that central trade unions, including INTUC, CITU and AITUC, will observe the bandh to press for their demands.