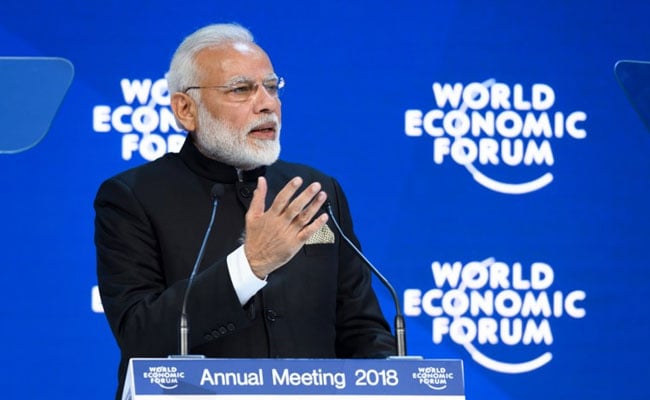 New Delhi:
Prime Minister Narendra Modi made a strong pitch on climate change at the Global Economic Forum in Davos on Tuesday, calling it the "first challenge" facing civilization. Prime Minister Modi identified climate change, global terrorism and protectionism as the three toughest challenges before the world today.
"Glaciers are melting, Arctic ice caps are retreating, Davos is getting the worst snowfall in 20 years", said Prime Minister Modi while taking on the West and United States on the crumbling Paris Climate Accord of 2017. Without mentioning the West or United States, Mr Modi said, "Everyone is talking about reducing CO2 emissions but what is being done about it; very few countries are backing up with action on what they promised... where are the resources to help the developing countries?" Very few of have come forward to help, said the Prime Minister.
At the Paris climate talks in 2017, the United States under Obama administration had promised $3 billion in aid to developing countries to combat climate change but little has come so far. Donald Trump, President of United States, dropped climate change from his National Security Strategy saying "climate change is not identified as a national security threat". After pulling out of the Paris accord, President Trump on January 11 said his "primary concern with the accord was that it treated the United States unfairly and that if a better deal could be reached, Washington might be persuaded to rejoin". Trump ridiculed the Paris Climate Accord saying, Pittsburgh elected me not Paris.
The Paris agreement had set the limit of global warming to less than 2 degrees Celsius by the turn of the century. Mr Modi's pitch on climate change assumes huge importance at a time when the Climate Action Tracker indicates that countries are behind the goal. As per the tracker "Following a US withdrawal, if all other governments fully implemented their pledges there would be a median global temperature increase of 3.2 degrees Celsius".